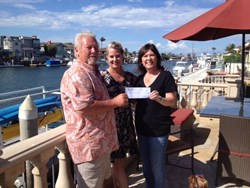 ...cancer has impacted my family so many times and in so many ways, that we truly understand the need for more research.
Irvine, CA (PRWEB) September 03, 2013
Six years after its inception, Kure It, a nonprofit dedicated to underfunded cancer research, has reached a fundraising milestone. Just in time to make the end of the month, Kure It reached its goal, thanks to a check from long-time supporters Pam and Jack Domingue of Storage Solution, Inc. The check represents a milestone for the nonprofit, but most importantly, another step forward in research focused on cancers that are often overlooked and underrepresented in funding.
This money will be granted to top researchers at leading institutions, with the aim of discovering new weapons in the war against cancer. With cancer an ever present threat to the lives of neighbors, friends and loved ones, all can relate to the need to find new ways to treat, and cure, this disease.
"Many researchers have theories and preliminary research, but lack the funds to carry out their projects to the end. It is not uncommon for researchers to spend precious time seeking funding for innovative research, when the time could be better spent in the laboratory," said Kure It founder Barry Hoeven. "We established the nonprofit to fill that gap, placing the funds directly into the hands of the researchers."
Along with fundraisers held throughout the year, which add fun to the mix while drawing support, Kure It has reached out to the self storage community, garnering support from companies and individuals. Holding to the concept that many people giving small, recurring amounts adds up to big dollars for research, the non-profit reached the $1 million dollar mark in October 2011. In 2012, the inaugural Rivals United for a Kure campaign, which rallies rival USC and UCLA football fans in the fight against cancer, resulted in $300,000 in research grants to the Comprehensive Cancer Centers at the two schools.
Pam Domingue was thrilled to give the check that sent Kure It's total over the top. A loyal supporter, she worked alongside the Kure It team to reach $2 million by the end of August, even hosting a July fundraising cocktail party at her Huntington Harbor home. "Kure It is important to us on both personal and professional levels. Personally, cancer has impacted my family so many times and in so many ways, that we truly understand the need for more research. Professionally, we feel that as business owners, we should give back to our community. Kure It, with the creative programs they have developed for our industry, allows us to give back in minor ways, along with other businesses, and put those resources together for substantial grants, making a huge impact on research. Their creativity inspires us to give in ways that won't have a negative impact on our business, and helps promote consumer awareness and participation at the same time."
Kure It Director Karen Jones reports, "We have heard from Pam fairly frequently the past few weeks, checking in on our progress toward the big milestone. We couldn't be more grateful for Jack and Pam's support, or more thrilled that theirs was the gift that got us to $2 million."
"We are proud to be a part of their success, and look forward to a long lasting relationship with this exceptional organization!" said Pam.
About Kure It
Kure It is a non-profit organization providing funding for innovative research projects focused on kidney cancer and other underfunded cancers. The funds raised through Kure It directly support groundbreaking research at leading cancer centers. Since being established in 2007, Kure It has raised $2 million and supported research across the United States. http://www.kureit.org
###