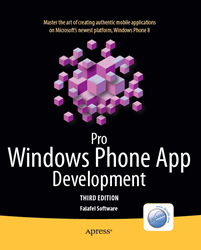 I think it is the best book we have written to date.
Capitola, CA (PRWEB) September 04, 2013
Falafel Software is pleased to announce that its latest book, "Pro Windows Phone App Development," has been released and is available through APress Media. The 560-page development guide walks readers through the entire application development process, starting with an explanation of the basic requirements of a modern Windows Phone app and progressing through app creation and submission to the Windows Phone store.
"Working on this book was a lot of fun," said Noel Rice, VP of Software Services at Falafel Software. "The combination of the great additions to the Windows Phone 8 platform and working with Apress was a pleasure."
Apress is carrying the title under their flagship "Pro" brand of books targeted at serious developers, ensuring that the content is readily available from any online retailer, bookstore and technical conference. Previous versions of this manual have targeted the earlier and now outdated Windows Phone 7 platform, but in this revision, the entire book has been rewritten by Falafel Software to specifically address development for Windows Phone 8.
Falafel Software's resume made the organization an ideal candidate to author the development guide for the latest version of Windows Phone. Falafel is an 8-time Microsoft Gold Certified Partner with a team comprised of Microsoft MVPs, Nokia Developer Champions and Microsoft Certified Professionals. The team has been building apps, blogging and creating Windows Phone content from the very beginning. The company self-published their own title, "Windows Phone 7.5 Nuts and Bolts" and was featured at the Windows Phone 7 Developer Launch in Mountain View, CA in 2010. Since the launch, Falafel Software has taught multiple full day Windows Phone 8 Development workshops at major events including DevConnections and DevIntersection, and teamed up with Microsoft Windows Phone Developer Evangelist Daniel Egan to teach Silicon Valley's Windows Phone 8 Phone Camp.
"I have taught a number of our full day Windows Phone 8 workshops and the answers to all of the questions people ask can be found in this book," said Lino Tadros President and CEO of Falafel Software. "It is a wealth of knowledge and a fun read; I just know people are going to love it. I think it is the best book we have written to date."
Pro Windows Phone App Development is available now at Amazon.com and other online retailers.
About Falafel Software
Falafel Software Inc., an 8-time Microsoft Gold Certified partner, has been providing custom software development, consultation, and training services worldwide since 2003. For over a decade, both large and small businesses have worked with Falafel's dynamic team of Microsoft MVPs and Microsoft Certified Professionals to deliver custom cutting-edge web, mobile and cloud solutions.