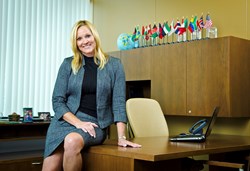 At TTi, we support and believe in the United Nations Women's Empowerment Principles. These are seven principles that have been developed through research and study on gender issues and what companies can do to support gender equality. - Lori Blaker
Rochester Hills, MI (PRWEB) September 03, 2013
The CEO Statement of Support for the Women's Empowerment Principles is a joint initiative between the UN Global Compact and UN Women. The statement encourages business leaders to use the seven Women's Empowerment Principles as guide posts for actions that advance and empower women in the workplace, marketplace and community.
TTi Global will join other business leaders from across the globe and give support for advancing equality between women and men. The Principles present seven steps that business and other sectors can take to advance and empower women.
"I would encourage all businesses to embrace these principles. It is the right thing to do. It is good for business and needs to be a priority," states Blaker as she describes the many benefits. "This commitment results in bringing the broadest pool of talent to our organization. It furthers our companies' competitiveness. The full participation of women in our enterprises and in the larger community makes sound business sense."
Blaker recently shared her beliefs with a group of students stating: "At TTi, we support and believe in the United Nations Women's Empowerment Principles. These are seven principles that have been developed through research and study on gender issues and what companies can do to support gender equality."
Blaker went on to illustrate the impact of leadership stating, "All of the principles start with the CEO. Policies for gender equality and human rights begin at the top. They start at the top of the house. If the top of the house or your senior management team does not value these principles, then it's not going to cascade down through the organization. Fortunately at TTI Global, three out of the top four positions are held by women; CEO, CFO and the Global HR Director. That really gives us a leg-up when we are talking about women's right and gender equality."
Emphasizing the importance of turning principles into action, Blaker said, "People focus on activities in a corporation that are monitored, measured and then rewarded. As the CEO, I need to make sure that my people are aware of the importance of gender equality issues and the importance of human rights issues."
Blaker further explained that progress could be made by instituting measurable benchmarks. "If everyone in the organization knows that I am going to look at these issues, and that I am going to measure our progress, then everyone is going to view it as important. That is how we'll make progress. This year we reviewed the global reporting initiative that was released in conjunction with the United Nations and the Women's Empowerment Principles. That global reporting initiative gave us lots of ideas on how we can track gender equality right down the organization, from the CEO level all the way down to a factory floor level."
President and CEO, Lori Blaker heads of one of the fastest growing women-led organizations in North America. Her leadership skills continue to be recognized by the business community. In 2012, President/CEO Lori Blaker received the "Leader of Leaders" Award from Leadership Oakland. Under her leadership, TTi Global has ranked consistently among the "Top 25 Woman-Run Businesses in the USA" as recognized by the Women's Business Enterprise National Council.
#####
TTi Global provides staffing, learning, research and consulting solutions to industries across various sectors with automotive as a core focus. TTi Global oversees operations on five continents with offices spanning the globe, which include Australia, Brazil, Canada, Chile, China, India, Japan, Mexico, Peru, South Africa, Thailand, Venezuela, UK and most recently Afghanistan.
With a staff of over 2000 employees in international operations, they offer a wide range of services, tailor made to drive business goals, including business consulting, research, staffing, workforce development and learning solutions. TTi Global world headquarters are located in Rochester Hills, Michigan.