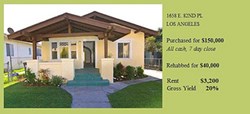 Overlooked markets abound in Southern California and throughout Los Angeles.
Beverly Hills, CA (PRWEB) September 27, 2013
SRE Investing, one of Southern California's leading real estate investment firms, has announced a new strategy for investors hoping to beat the market without losing sleep. All it takes according to the firm is a keen eye for the right properties and the willingness to make smart decisions where lending is concerned.
High-risk, high-stress lending dominated the real estate investment world until a few years ago. Then, the bubble burst and investors lost more than their shirts. Real estate investing hasn't gone away, though. It's just changed its face, or at least that's what SRE Investing wants its clients to do.
Jay Belson of the company said, "There's little in the way of glitz and glamor here, but it's very different from the way things were before. Investors need to look at nontraditional commercial investments – residential complexes, for example. Apartment prices have skyrocketed by 25%, and private investors can reap rich rewards here. Of course, it's not all about making a profit. It's also about not letting the meltdown of 2008 happen again."
Part of the secret, according to Belson, is to go with long-term, fixed-rate financing at 60% or less of a property's actual price, including what it costs them to renovate the property. The second half of the secret is getting into the right submarkets. Overlooked markets abound in Southern California and throughout Los Angeles, and savvy investors can turn that lack of attention to their advantage.
"Smart investors leverage unique financing options, prime submarkets that languish without attention and, most of all, they limit their liability as far as aggressive debt is concerned. Smart investing – that's the name of the game today, and our clients are the smartest of the bunch."
To find out more about SRE Design & Development, visit http://www.SREinvesting.com.
About SRE Investing: Headquartered in Beverly Hills, SRE Investing specializes in Los Angeles real estate investing. Clients are able to participate as owners, lenders or partners in investments.