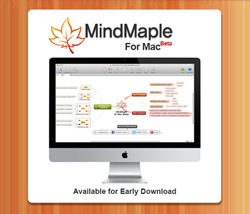 MindMaple launches its beta version of MindMaple for Mac.
Santa Clara, CA (PRWEB) September 06, 2013
In response to the numerous inquiries for a Mac version of MindMaple, the efficient mind mapping software, MindMaple Inc. has finally released a beta version of the MindMaple for Mac. With the increase in demand for versions compatible with a variety of platforms, MindMaple Inc. continues to expand their product line. Originally a Windows-only release, MindMaple also has both an iPad and iPhone version on the market.
The modern graphics and easy-to-navigate user interface MindMaple is well known for, have successfully been adapted to the Mac iOS interface. Theme, shape, color customization, linking URLs, images, and documents, as well as various import and export options and more are available with the MindMaple for Mac Beta version.
Beta testers are encouraged to send feedback to mac(at)mindmaple(dot)com.
MindMaple is a mind mapping software available for free for the new user, and in a Pro version for seasoned users. For more information on MindMaple and the benefits of using mind mapping software, visit http://www.mindmaple.com or MindMaple Inc.'s blog (blog.mindmaple.com).