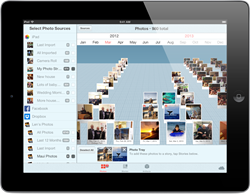 We are very excited to partner with Peecho to print the books and magazines for our customers. - Mary Ellen Heinen, CEO of Pepper Networks
Kirkland, WA (PRWEB) September 12, 2013
With Timebox 2.0, it is easy to select your favorite photos from Dropbox, iOS devices, iPhoto on the Mac and Facebook. You can then add the stories and details that you want to remember about a trip, family member, pet or holiday. Finally, make long-lasting artifacts celebrating a life, birthday, wedding, reunion, trip, year or job well done. Timebox artifacts will last hundreds of years or longer and are perfect to display, share and pass along.
"We are very excited to partner with Peecho to print the books and magazines for our customers," said Mary Ellen Heinen, CEO of Pepper Networks. "Peecho is perfectly positioned to turn the treasured digital content archived in Timebox into physical keepsakes printed by some of the world's best facilities," said Martijn Groot, CEO and co-founder of Peecho.
The company is also proud to be selected as a 2013 Global Hot 100 company by the World Summit on Innovation and Entrepreneurship (WSIE). "We are pleased to have Pepper Networks as one of the World Summit's most compelling enterprises for 2013. We believe the Timebox app, artifacts and cloud architecture developed by Pepper Networks will shape the future of how our stories are preserved for future generations and civilizations," said Sam Hamdan, CEO of tranzishen, and the Chairman and Chief Architect of The World Summit.
About Pepper Networks
Pepper Networks, LLC helps people preserve and share the digital things that are important to them. The company's first product is the Timebox personal history archiving app for collecting and organizing photos and stories and making long-lasting artifacts for family, friends and future generations. Founded in September 2011 by experienced entrepreneurs Mary Ellen Heinen and Len Kawell. The company is headquartered in Kirkland, WA. Timebox is a registered trademark of Pepper Networks LLC. http://www.timeboxapp.com.
About Peecho
Using cloud print technology, Peecho connects websites to a global network of only the best print partners. On behalf of our merchants, we transform digital content into photo books, reports, magazines, canvas prints and more. http://www.peecho.com.
About the World Summit on Innovation and Entrepreneurship
The World Summit on Innovation and Entrepreneurship was launched in 2006 at the United Nations with the mission to use innovation to improve life, transform lives. http://www.thewsie.org.