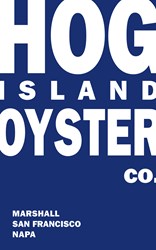 We had not been planning to expand, but when this opportunity presented itself in the Ferry Building we knew it was too good to be true. The Bay Area has always been our core community. We are humbled by our customers' overwhelming support over the past
San Francisco, CA (PRWEB) September 06, 2013
Hog Island Oyster Company today announced the signing of a new lease in San Francisco's historic Ferry Building Marketplace. The planned expansion will more than double the size of their existing namesake Hog Island Oyster Bar. Construction of the new space is slated to begin in January, 2014.
Hog Island Oyster Co., headquartered in Marshall, CA, on the eastern shore of Tomales Bay, is celebrating 30 years of cultivating premium quality, local oysters and shellfish for the Bay Area.
With a vision of bringing seafood lovers a farm-to-plate oyster experience, the oyster farm opened their first Hog Island Oyster Bar in 2003. They were one of the first tenants of the newly renovated San Francisco Ferry Building Marketplace.
"We had not been planning to expand, but when this opportunity presented itself in the Ferry Building we knew it was too good to be true. The Bay Area has always been our core community. We are humbled by our customers' overwhelming support over the past ten years. With this growth we are able to better fulfill our customers' requests and provide an even more spectacular oyster experience," said John Finger, Co-founder & President, Hog Island Oyster Co.
Hog Island Oyster Co. has engaged the Bay Area architectural firm of Cass Calder Smith to design their new space. While final details are not yet set, new plans include a full bar, expanded menu, communal tables and a floor-to-ceiling view of San Francisco Bay. The design will incorporate authentic historical artifacts and working elements from Hog Island's Oyster Farm on Tomales Bay.