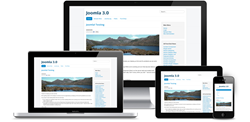 Unlocking and placing complete control in your hands.
(PRWEB) September 03, 2013
MediaCore - The Web Specialists have recently launched a promotional video for their Joomla Business Website services which they provide to New Zealand and international businesses.
This new promotional video showcases the strengths of Joomla as an Open Source platform which many NZ and international businesses are now investing in for their website CMS.
To watch the promotional video click here: Joomla Business Websites.
Big changes in the New Zealand local website development industry has meant that Open Source platforms are now becoming increasingly more attractive to NZ companies who need freedom of provider choice.
Why Do MediaCore Develop Websites on Joomla?
You may be asking why MediaCore have chosen to develop using the Joomla CMS system, and in all honesty it is not a hard question to answer at all.
MediaCore chose to use Joomla due to the fact that Joomla places total control and freedom into their customer's hands. This means that any business that uses Joomla has total freedom to choose their provider of website services and to unlock the flexibility and growth features that Joomla CMS provides to any website.
MediaCore who have been working with Joomla over the last 8 years, have been pushing the boundaries of unique and bespoke website development using Joomla's powerful and flexible framework. Developing many functional and high level websites has given the team at MediaCore a skill set that has allowed them to provide competitive website design and development that beats out proprietary options hands down.
Launching dedicated Joomla hosting services is also another value addition to their list of services that has set MediaCore apart from the crowd and showcased their specialist expertise.
So Why Does MediaCore Retain More Customers Using Joomla?
A very logical business question to ask as Joomla is a free software, and the answer is the reason MediaCore excels at their skill set: this of course is customer focus.
MediaCore's support of Open Source platforms and the way they work means that focus at all times remains 100% on what their customers need to push their businesses forward, enabling them to achieve their business and marketing objectives online.
Focused on achieving results for their customers is another core reason why MediaCore is always at the forefront of implementing new website design and development techniques for their customers.
Constantly researching and adding new techniques and methods, the team at MediaCore know how to make a website that generates results, sales, leads and solid brand messages.
Dealing with a knowledgeable website development company liked MediaCore means not only will you get the best Open Source platform, but you will also get the very best professional expertise that the NZ and international website design and development collective has to offer.