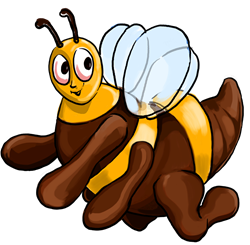 Leicester, UK (PRWEB UK) 1 September 2013
Bertie the Bee is a terrific way to teach children about the importance and benefits of team work. Bertie goes on an adventure of his own whilst out collecting pollen and in the process learns the importance of the part he plays in the bee-hive.
Team work is a vital method to learn when growing up, and this story instills this perfectly with a mix of humor and informative narrative. A must for any parent who wants to indirectly get their child to involve themselves more in school and during extra-curricular activities. Moreover, it will even educate them on how important bees are in our everyday lives. You'll probably find them running away from bees a lot less as well.
Robin Toys "Bertie the Bee" can be purchased from worldwide major book shops and online via these outlets:
http://www.amazon.co.uk/Bertie-Bee-Diaries-Robins-Toys/dp/1782260218/ref=sr_1_1?s=books&ie=UTF8&qid=1377846836&sr=1-1&keywords=Bertie+the+Bee
http://www.ebay.co.uk/itm/Bertie-the-Bee-The-Diaries-of-Robins-Toys-by-Ken-Lake-Angie-Lake-/281148833987?pt=Children_s_Young_Adult_s_Fiction&hash=item4175c6c0c3