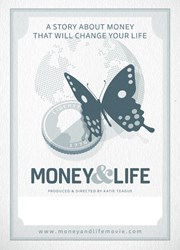 "Money & Life does offer an engrossing history of the very concept of currency, and it raises some very salient points about our relationship with money, and the treadmill we constantly run on to acquire it..." - SF Weekly
Takoma Park, MD (PRWEB) September 11, 2013
On September 12th, the City of Takoma Park, MD will host a community screening of a new, feature length documentary, Money & Life, which asks whether the ongoing economic crises can be seen as an opportunity to redesign our relationship to money, at the personal, community and global levels. The community screening will be held at the City of Takoma Park Municipal Center, 7500 Maple Ave., Takoma Park, MD at 7:30PM. The community screening will be followed by a community dialogue to continue the conversation the film is guaranteed to inspire.
Susan Belchamber, a Money and Life producer and founding member of the M&L National Support Team is a local social activist who has been involved in promoting the New Economy through community discussion and action, will be on hand to facilitate the conversation.
For attendance information, please check out the event on Facebook.