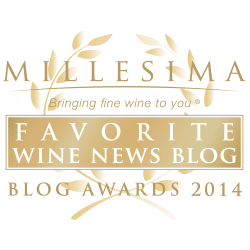 New York City, NY (PRWEB) September 04, 2013
A selection of 10 bloggers will be chosen for each of the following categories:

wine tasting
wine news
wineries
The 30 blogs selected to participate have been chosen based on their relevant and high-quality content, to supplement Millesima's profound knowledge of the world of wines.
Once selected, these blogs will be promoted throughout our international community. Using Millesima's well-established communication channels, our favorites will be promoted to over 36,000 Facebook Fans (including 4000 for the NYC page), 3000 Twitter followers and 1000 daily Millesima's blog readers.
The panel of judges was composed by Millesima's team, including motivated and hard-working professionals, who recognize the specific needs and desires of their customers:
Gerard Spatafora, E-Commerce & M-Commerce manager at Millesima since 2007, wine industry connoisseur and Italian wine aficionado, wished to launch these Blog Awards to deliver independent and qualitative content to the customers.
Hortense Bernard, General Manager of Millesima USA, oversees a team ready and willing to assist and give recommendations in their Manhattan store, open since 2006. She believes more than ever that passion is meant to be shared, especially when discussing wine between professionals and wine devotees.
To round out the selection committee, Fabrice Bernard, CEO of Millesima trusts largely in this project from its inception through team support. In addition, his recent visit to the store in NYC has led to many ideas for future projects for the American wine community.
For more information on the Millesima Blog Awards 2014 and to see the list of winners, check out the link. (http://blog.millesima-usa.com/millesima-blog-awards/).