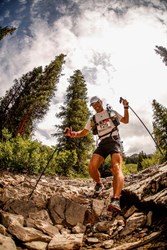 "The Mountain Ultra 2014 promises to build upon the legacy of the Mountain Ultra 2013." Wes Crutcher, Race Direcor
(PRWEB UK) 3 September 2013
Competitors from around the world came together for the inaugural Mountain Ultra last month and included, world record holder Mimi Anderson, 65 year old Hurricane Carter and Alex Flynn who as a sufferer of Parkinson's disease is currently aiming to raise £1 million for charity. Billed as the toughest race in Beyond The Ultimate's Ultimate Ultra Race Series, competitors experienced altitude sickness, muscle pain and sheer exhaustion during the five stage race. The weather also provided an additional challenge to the race as the competitors faced sunshine, rain and snow as they climbed the mountains carrying up to 13kg of kit and equipment. With an early finish to stage 4 due to the weather compromising the health and safety of the competitors, the hostile nature of the Rocky Mountains provided a huge challenge,and ultimately huge reward for all of the race's competitors.
Despite the challenges, the incredible scenery of the Rocky Mountains provided an inspirational setting for the competitors and one competitor in particular, Mimi Anderson, who enjoyed a rare sighting of a Black Bear during Stage 1. In the face of such an inhospitable environment, the competitors provided impressive performances, with just three of the competitors failing to complete the race. Race winner Simon Grimstrup and leading lady Camilla Gry-Elmann also displayed amazing performances with both runners pushing their limits in not only the Mountain Ultra with finishing times of 22 and 28 hours, but also in Beyond The Ultimate's extremely challenging 230km Jungle Ultra during May 2013 in the Amazon Rainforest.
"The Mountain Ultra 2013 provided an unforgettable experience to all of our competitors thanks to the tough course and unbelievable views! It's great to see all of the competitors enjoying the race and testing their abilities to the maximum; the Mountain Ultra 2014 promises to build upon the legacy of Mountain Ultra 2013, and with a field of just 100 runners we are expecting a very high demand for the limited places available!" Wes Crutcher, Race Director
This challenging and spectacular race will be returning to the Rocky Mountains in 2014 where a second set of ultra-runners will take on the tough course. Places are released on the 1st October and are priced at £1,500; those looking to compete in the Mountain Ultra 2014 are currently being offered a fantastic 10% discount when booking between the 1st and 7th October.
Beyond The Ultimate provides some of the world's toughest ultra-marathons in stunning locations around the globe. The Mountain Ultra forms part of a four part series including the Jungle Ultra, Desert Ultra and Ice Ultra. Beyond The Ultimate offer a limited number of Editorial Places free of charge for each race.