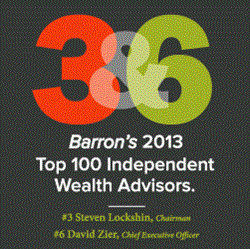 This honor by Barron's reflects our dedication and commitment to bringing expertise, innovation, and outstanding service to our clients.
Washington, DC (PRWEB) September 04, 2013
Convergent Wealth Advisors announced that two of the firm's advisors were included on Barron's 2013 ranking of the nation's top Independent Wealth Advisors. Steve Lockshin, Convergent founder and Chairman, was ranked #3, and Dave Zier, Chief Executive Officer, was ranked #6.
"This honor by Barron's reflects our dedication and commitment to bringing expertise, innovation, and outstanding service to our clients," said Douglas Wolford, Convergent President & Chief Operating Officer. "Steve, Dave, and the entire Convergent team are continuously seeking to implement the best solutions to meet our clients' long-term goals. Accomplishing this takes a special mix of people and experience that we have cultivated here at Convergent over nearly 20 years."
"This Barron's ranking highlights Convergent's commitment to developing and maintaining client relationships," said Chairman Steve Lockshin, who landed his fourth consecutive ranking in the top five. CEO Dave Zier added, "Investors are smart and demand an insightful advisory relationship. Convergent takes great pride in helping our clients understand their unique needs and offering them top-notch wealth management services."
Volume of assets overseen, revenues generated for the firm and the quality of the advisor's practice are all ranking criteria for this list.
About Convergent Wealth Advisors
Convergent Wealth Advisors is a recognized industry leader in wealth management, advising on over $11 billion in assets (as of June 30, 2013). Convergent provides investment consulting services and customized wealth management solutions to ultra-high net worth individuals and family offices with investable assets of $10M and more. Independence by Convergent™ is a division of Convergent focused on servicing clients with $1 million and more in investable assets.
Convergent has offices in Washington, DC, Los Angeles, New York, and Portland, OR.
Media Contact: Douglas Wolford | 301.284.1112 | Doug.Wolford(at)ConvergentWealth(dot)com
Disclosure: Factors included in the Barron's rankings: assets under management (Convergent provided AUA as of 3.31.13 for this ranking criterion), revenue produced for the firm, regulatory record, and quality of practice. Quality of practice includes an advisor's regulatory/compliance record and philanthropic and charitable work. Non-deposit investment products are not FDIC insured, are not deposits or other obligations of City National Bank, are not guaranteed by City National Bank and involve investment risks, including the possible loss of principal.
Convergent is a majority-owned subsidiary of Convergent Capital Management, which is a subsidiary of City National Corporation (NYSE:CYN), the parent company of City National Bank.