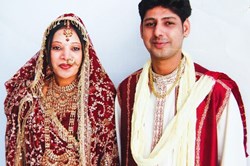 Birth injuries compensation can never balance the damage done, but an admittance of guilt and an assurance that lessons have been learnt can be of comfort to the family.
Bolton, UK (PRWEB UK) 4 September 2013
An internal investigation by Central Manchester University Hospitals NHS Foundation Trust has allegedly found that midwives repeatedly failed to check the progress of their patient, Mrs Singh, or effectively monitor her baby's heart rate (1). According to the Manchester Evening News, this lack of action caused her baby boy to suffer from oxygen starvation, with the resulting brain injuries causing him to die of an avoidable birth injury (2).
As reported in the Manchester Evening News, following an agonising labour, Mrs Singh opted to receive an epidural, allegedly leaving her numb from the waist down. Her consultant anaesthetist first performed a 'spinal block' so she would sit still enough to have the epidural; consequently, this amounted to a double dose of pain relief (1).
Alleged by the Bolton News, being numbed to such an extent meant that Mrs Singh didn't realise that her son's birth had taken place, leaving the baby suffocating under her bed sheets (2).
Eventually discovered by midwives, medical evidence suggests that he was already in a poor condition, but the delay in staff noticing and acting, meant he suffered further avoidable injury (2).According to the Bolton News, the midwives failed to regularly check the progress of the labour, and allegedly, it was only when they went to monitor the baby's heart rate, that they discovered he had already been born.
Speaking on the care given, Kathryn Murphy, Head of Nursing and Midwifery at Saint Mary's Hospital (1):
"We have recognised there were failings surrounding the care of Maninder Singh, and we accept that this fell below the level of care we normally provide; as a result we have reviewed our practices and systems and implemented a number of changes."
Named Maninder Singh, he was given immediate resuscitation upon the discovery of his birth. Allegedly, the care came too late, and he had already developed severe brain damage and on-going respiratory problems. Maninder remained in intensive care throughout his life, and died on May 4, 2009 (2).
Considering the circumstances, Asons Executive, Laura Williams:
"At Asons Solicitors, we are considered to be specialist birth injury solicitors, and time and time again we see circumstances where mistakes could easily have been avoided. The same can be said of the alleged errors surrounding the birth of Maninder Singh. In his case, the midwives failed to monitor Mrs Singh properly, failing to provide her with an adequate or safe level of patient care.
"In scenarios such as these, birth injuries compensation can never balance the damage done, but an admittance of guilt and an assurance that lessons have been learnt can be of comfort to the family."
An avoidable birth injury can be ruled as a form of medical negligence, in which case a victim of such a tragedy may be entitled to make a claim for birth injuries compensation. Anyone who may have been subjected to the same events as the Singh family should contact Asons Solicitors, to find out if there is eligibility to make a birth injury claim. For more information visit http://www.asons.co.uk or phone 0844 850 1062 to speak to one of their medical negligence claims solicitors.
-Sources -
(1) The Manchester Evening News, 'Pay-out for father after death of child left brain damaged at birth following hospital blunder' (23/09/2013) manchestereveningnews.co.uk/news/greater-manchester-news/pay-out-father-after-death-child-5778121
(2) The Bolton News 'Justice for family after baby death' (23/09/2013) theboltonnews.co.uk/archive/2013/08/23/10631621.Justice_for_family_after_baby_death/

About Asons Solicitors:
Asons Solicitors is a Bolton-based law practice that specialises in personal injury and industrial disease claims. Founded by brothers Imran Akram and Kamran Akram, Asons Solicitors has developed to become a young and dynamic law firm that delivers practical solutions to clients in times of difficulty. Their continued focus on their staff has seen them awarded with the Investors in People "Gold Award"; which is reflected in the professional and personable approach they take in working with clients. They strive to grow and to develop, and their supportiveness and attention to detail ensures that their clients use them time and again.
For further information contact:
Email: info(at)asons.co.uk
Website: http://www.asons.co.uk