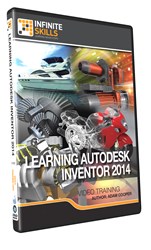 Learn Autodesk Inventor 2014 at your own pace.
(PRWEB) September 01, 2013
Software training firm Infinite Skills Inc. this week introduced its "Learning Autodesk Inventor 2014 Tutorial," a course designed to assist inventors in beginning to model their projects with this powerful 3D modeling application.
Autodesk Inventor is a 3D mechanical CAD program for creating digital prototypes used in the design and simulation of products. Inventor uses an integrated motion simulator in an assembly stress environment, allowing users to input load and friction characteristics to simulate how a product will function in real-world conditions.
In the beginning-level "Learning Autodesk Inventor 2014 Training Video," designers learn an essential skill-set for using this powerful software.
Learning Autodesk Inventor 2014 Tutorial Video - DVD
An Inventor user since 1999, course author Adam Cooper is a career mechanical engineer, designing primarily plastic installations in the automotive industry. He is also an accomplished trainer and a regular speaker at Autodesk University. He is an Autodesk Certified Instructor in Inventor and several other Autodesk programs.
"This course really focuses on providing a basic knowledge of the software," Cooper says. "It's a great way to build an essential vocabulary in Inventor's tools and concepts."
The course begins with an overview of the Inventor 2014 interface, explaining concepts that will be further explored in later chapters and establishing best practices for using Inventor.
Cooper then dives into Inventor's functionality, explaining the tools involved in sketching, such as using lines, circles, arcs, and more, as well as establishing guidelines for creating successful sketches.
The course continues with chapters explaining how to work with dimensions, and exploring some advanced features of sketches like extrude, revolve, and sharing sketches.
Throughout the video tutorial, Cooper teaches fundamental concepts. As students create an assembly from individual parts, he teaches how to construct, annotate, and standardize their projects, finally creating a presentation of the final assembly.
Free demo videos and a full list of course contents can be found on the Learning Autodesk Inventor 2014 training page of the Infinite Skills website:
http://www.infiniteskills.com/training/learning-autodesk-inventor-2014.html
Infinite Skills offers its Learning Autodesk Inventor 2014 Tutorial either as a DVD or a direct download from the company website at a retail price of $99.95. Infinite Skills tutorials are supported by project files which correspond to examples in the videos. All Infinite Skills titles and formats are compatible with both Mac and Windows operating systems, and shipping is available around the globe.
About Infinite Skills Inc.
A leader in the field of software training, Infinite Skills strives to offer the highest quality training available at an affordable cost. Infinite Skills tutorials are task-oriented instructional videos, teaching complex skills by providing hands-on examples, guiding users as they carry out critical objectives. Infinite Skills offers a comprehensive range of software titles available as DVDs, digital downloads, and iPad editions, keeping with company aim of delivering professional training to customers anywhere they want to learn.