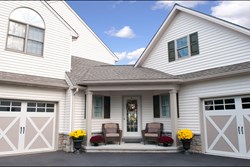 it's really a privilege to have our expertise and innovation highlighted on a national level
Lancaster, PA (PRWEB) September 05, 2013
The Metzler Home Builders team, specialists in home additions and renovations, were recently asked to weigh in, both in concept and product, from the popular home and interior design site, Houzz. The acclaimed online forum, dubbed the "Flickr of design idea sites," featured both a Metzler custom in-law project and expert commentary to complement it. Metzler's 550-square-foot in-law suite, completely fitted with a 225-square-foot connecting common area, was highlighted for its accessibility, custom feel and an expert critique of the in-law development process from Metzler's Senior Designer, Tim Zehr.
"We're delighted to be able to offer our insight to Houzz," said President Dan Metzler. "It's really a privilege to have our expertise and innovation highlighted on a national level." Metzler added, "It's our goal to not only be the best central PA home builders, but to also contribute to the building and design community on a larger scale."
While servicing the Central Pennsylvania region with stylish custom additions, Metzler Home Builders has consequently garnered praise for undeniable expertise in whole house renovation and new home construction. The Metzler collection of services is respected for both its quality and unique designs.
Since 1953, Metzler Home Builders has been converting "today's dream into tomorrow's reality," through truly custom new homes, additions and renovations. As a clear innovator and preferred choice for Lancaster, PA area new homes, the Metzler team is a proud certified green professional and National Association of Home Builders member. The home improvement specialists boast 60 years of building experience with a focus on developing long lasting personal relationships coupled with dedicated customer service.