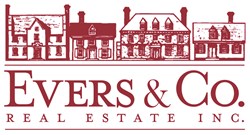 Washington, D.C. (PRWEB) September 03, 2013
A 32 percent increase in dollar volume of sales since July 2012 signals that more Washington, D.C. – area homes are on the market and lenders are offering more loan options, allowing more movement in the market. Overall, strong July housing market numbers indicate a robust fall season for metro area real estate.
"It's a continuation of the theme that's been going on all year long," says Donna Evers, president and broker of Evers & Co. Real Estate. "But we've got bigger numbers in one area that we've all been concerned about and that's dollar volume of sales. Our market showed a 32 percent improvement over July of last year and that's significant."
Evers also notes that following the upward trend experienced during the spring and summer this year, the average sales price increased by 7.6 percent and days on the market remained 40 percent lower than 2012 numbers.
"If it's like this in July, and right now we're having a good August too, it's going to certainly be this way in September and October," says Evers. "There's something for everybody and there are loans available."
Although, according to Evers, the market is still a seller's market because of limited product and high demand, it is moving and improving for both buyers and sellers. Sellers are still selling, Evers says, but now buyers have more choices.

Statistics are taken from the Metropolitan Regional Information System for three areas: Washington, D.C.; Montgomery County in Maryland; and Fairfax County, Arlington, Alexandria and Falls Church in Virginia.
About Evers & Co.
Founded in 1985 by Donna Evers, Evers & Co. Real Estate, Inc. maintains its success through a strong referral base and agents who enjoy a premier reputation for their expertise and in-depth knowledge of Washington Metro Area homes and neighborhoods. Evers & Co. is home to more than 100 licensed real estate professionals with decades of combined experience, who enjoy access to a first-of-its-kind Agent Resource Center. The agency is the largest woman-owned and-operated residential real estate firm in the area and a member of Unique Homes Affiliate Network, Who's Who in Luxury Real Estate and FIABCI, the largest international real estate organization in the world. In addition, the agency has an alliance with My Home In Paris, a residential real estate firm in Paris, France. For more information about Evers & Co. Real Estate, visit http://www.eversco.com.