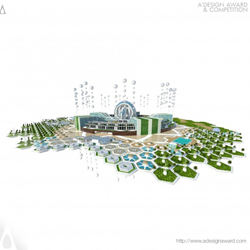 taly (PRWEB) September 15, 2013
Como, İ A' Design Award and Competition is happy to share that the project Pearl Atlantis by Maria Cecilia Cruz has been awarded with the famous Golden A' Design Award in Futuristic Design Category. The design has been picked as the winner by panel of respected judges of the A' Design Award & Competition among great number of participants.
Concerning Pearl Atlantis
The Pearl Atlantis is the concept of a floating sustainable resort and marine observatory. The project designed to be presented in the Cagayan Ridge Marine Biodiversity Corridor of Sulu Sea in Philippines. This concept gives an answer to the country's need of boosting people's awareness regarding the conservation of local marine biodiversity. It will as well represent a construction that would have a monumental touristic value for which Philippines can be easily recognized.
To learn more, please visit: http://www.adesignaward.com/design.php?ID=27540.
The Golden A' Design Award
The Golden A' Design Award is a prestigious award given to top 3% percentile designs that has accomplished an exemplary level of excellence in design. The designs are judged by a panel of three different juries which is composed of Academic, Professional and Focus Group Members. The designs are evaluated with score normalization to remove any biases and are voted on aspects such as functionality, ergonomics, engineering, presentation, innovation, usability, fun details, technology, and any other specific points that could be considered, each of these points are further weighted for different jury groups.
About A' Design Award and Competitions
A' Design Award and Competition aims to highlight the excellent qualifications of best designs, design concepts and design oriented products. The competition is organized and awarded annually and internationally in multiple categories to reach a wide, design-oriented audience. To learn more visit: http://www.whatisadesignaward.com.