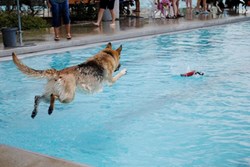 Carmel, Indiana (PRWEB) September 03, 2013
The Waterpark may be closed to the public for the season after Labor Day, but it is re-opening for the dogs for one day only! Carmel Clay Parks and Recreation has teamed up once again with the Humane Society of Hamilton County for this annual event, Barktember.
Bring your four-legged friends and join us on Saturday, September 7, from noon to 3 p.m. at the Monon Community Center Waterpark. Live music will be played while pets and their owners socialize and swim throughout the afternoon. Dog vendors will be in the park as well.
Cost for this event is $10 per dog, with proceeds benefitting the Humane Society of Hamilton County. Liability waivers must be signed prior to the event. Register in advance, online at http://www.carmelclayparks.com with activity number 139006-01.
Event information, complete with a list of vendors and waiver, is also available online. Or, contact Traci Broman, Event Supervisor, at 317.573.5243.