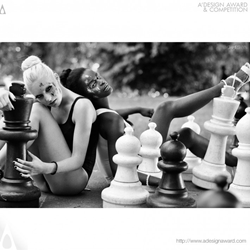 taly (PRWEB) September 06, 2013
Como, İ A' Design Award and Competitions are pleased to announce that the work Black&White Queens by Charlotte's Look became winner of the notable Golden A' Design Award in Photography and Photo Manipulation Design Category highlighted as the winner by the esteemed judges of the A' Design Awards & Competitions among thousands of designs.
Details of Black&White Queens
The Black&White Queens creative idea came from imagining playing a human size chess game with two models. As a result the two queens appear to be a perfect game figures representing a duality and strong characters.
Project took place in Switzerland.
To learn more about the award winning design, please visit: http://www.adesignaward.com/design.php?ID=27081.
Project Members for Black&White Queens
Black&white Queens project has been realized by Charlotte Rothpletz as a Creative Idea Genrator & black model, Mélanie Deillon as a white model, Make-up by Lucy Make-Up, and Photographer James Vyn
The Golden A' Design Award
The Golden A' Design Award is a prestigious award given to top 3% percentile designs that has achieved an exemplary level of greatness in design. The designs are judged by a panel of three different jury which is composed of Academic, Professional and Focus Group Members. The designs are evaluated with score normalization to remove any biases and are voted on aspects such as functionality, ergonomics, engineering, presentation, innovation, usability, fun details, technology, and any other specific points that could be considered, each of these points are further weighted for different jury groups.
About A' Design Award and Competitions
A' Design Award and Competitions, aims to highlight the excellent qualifications of best designs, design concepts and design oriented products. A' Design Award and Competitions are organized and awarded annually and internationally in multiple categories to reach a wide, design-oriented audience. To learn more visit: http://www.whatisadesignaward.com.