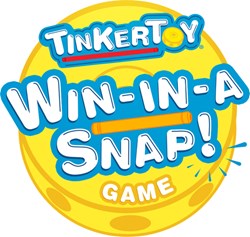 By playing the TINKERTOY Win-In-A-Snap Game, fans can earn entries towards the sweepstakes grand prize of $1000.
Hatfield, PA (PRWEB) September 09, 2013
K'NEX, the only U.S. construction toy company focused on Building Worlds Kids Love®, is pleased to announce the "TINKERTOY Win-in-a-Snap" game and sweepstakes, a six-week long promotion open to U.S. and Canadian* residents ages 18+ (for U.S. participants), or the age of majority in their province of residence (for Canadian participants).
To play the TINKERTOY Win-in-a-Snap game, players must log on to Facebook® and "Like" the TINKERTOY Facebook page. Every day, players will have an opportunity to guess which TINKERTOY model is being built in 30 seconds or less for their chance to instantly win one of one hundred TINKERTOY Building Sets, which will be awarded randomly throughout the six-week period. By playing the game daily and sharing the page with friends, fans have an opportunity to earn bonus entires towards the TINKERTOY Win-in-a-Snap sweepstakes grand prize of $1000! The more times fans play the game and share the page, the more entries they can accumulate, increasing their chance to win the grand prize.
The TINKERTOY Win-in-a-Snap game and sweepstakes runs September 9, 2013 through October 20, 2013. Participants can play once per day. For more information or to enter visit http://apps.facebook.com/tinkertoy_wininasnap?utm_source=pressrelease&utm_medium=email&utm_campaign=Win-in-a-Snap+Game. Click: here for Official Rules. No purchase necessary.
*See official rules for complete U.S. and Canadian eligibility information.
About K'NEX Brands
Founded in 1992, K'NEX Brands, the world's most innovative construction toy company, was established to make and sell what has become one of the world's leading integrated construction systems for children and is America's STEM building solution. Winner of over 250 international awards and recognitions, K'NEX, America's building toy company, is focused on Building Worlds Kids Love and encourages youngsters to "imagine, build and play." From the living room to the classroom, K'NEX has building toys specially designed for every age group and skill level. The K'NEX family of brands includes K'NEX Building Sets, K'NEX Thrill Rides, K'NEX Education, Lincoln Logs®, Tinkertoy®, NASCAR®, Angry Birds™, Mario Kart Wii™, Mario Kart 7™, Super Mario™, PacMan™ and more. Since 1992, The Rodon Group, a subsidiary of K'NEX Brands, L.P., has manufactured over 31 billion parts for the K'NEX building toy system. Join us as we help build the leaders of tomorrow. For more information, please visit http://www.knex.com or http://www.rodongroup.com.