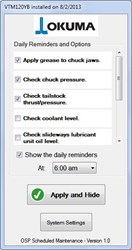 It's important to the longevity of the machine to perform routine maintenance on CNC machine tools. These automatic reminders make it easy to remember these simple tasks.
CHARLOTTE, N.C. (PRWEB) September 03, 2013
Okuma America Corporation, a world-leader in CNC machine tool manufacturing, has released a new app that displays scheduled maintenance and inspection reminders. Depending on the particular maintenance that needs to be performed, service recommendations can be displayed on a daily basis or intermittently throughout the life of the Okuma CNC machine tool directly on the CNC control without interrupting programming. The new app enhances productivity by helping to minimize unplanned service and downtime.
The Scheduled Maintenance App automatically appears on the CNC control when maintenance is needed based on the needs of the particular machine. It shows all of the maintenance tasks set for that specific machine by the Okuma software department. If tasks cannot be completed that particular day, the user has the option to choose when to receive the next reminder or can dismiss the warning.
Features of Okuma's Scheduled Maintenance reminders:

Logged job records to assist with troubleshooting issues
Reminders that are preprogrammed and based on the specific machine and serial number
Users can also opt for customized, periodic maintenance reminders that the operator selects upon installation. Daily reminders include routine checks for chuck/tailstock pressure, coolant/oil levels, etc. that can be programmed and scheduled to appear based on user preference. Once the maintenance has been performed, the operator checks off the tasks and minimizes the app.
The Okuma Scheduled Maintenance App is available for a variety of CNC lathes, multifunction machines, and machining centers equipped with the Okuma THINC® OSP- P200 or P300 CNC control. Apps like this are only possible using Okuma's THINC-OSP CNC control because of its unique open-architecture platform. Both the Scheduled Maintenance reminders and the Daily Scheduled Maintenance reminders are available in one combined app.
Developed by Okuma's Application Engineers, the Scheduled Maintenance App is available for free download through the Okuma website. For more information or to download the Scheduled Maintenance App or other Okuma THINC apps, visit http://www.okuma.com/thinc-apps.
About Okuma America Corporation
Okuma America Corporation is the U.S.-based sales and service affiliate of Okuma Corporation, a world leader in CNC (computer numeric control) machine tools, founded in 1898 in Nagoya, Japan. The company is the industry's only single-source provider, with the CNC machine, drive, motors, encoders, spindle and CNC control all manufactured by Okuma. Okuma's innovative and reliable technology, paired with comprehensive, localized service protection, allows users to run continuously with confidence – maximizing profitability. Along with its industry-leading distribution network (largest in the Americas), and Partners in THINC®, Okuma facilitates quality, productivity and efficiency, empowering the customer and enabling competitive advantage in today's demanding manufacturing environment. For more information, visit http://www.okuma.com or follow us on Facebook or Twitter @OkumaAmerica.