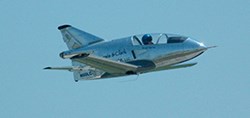 Midland-Odessa, TX (PRWEB) September 09, 2013
Since its conception in the 1970's, the "World's Smallest Jet" has been thrilling air show audiences all over the world.
Using today's advanced technology, the FLS Microjet features equipment that even James Bond couldn't imagine. The aircraft was featured in the Bond movie "Octopussy". Come and watch as Navy pilots Justin Lewis and Tom Lunsford amaze AIRSHO crowds with an awe-inspiring aerial performance that display the FLS Microjet's high performance and aerobatic capabilities.
The FLS Microjet is an aerobatic mystery, with a single seat, this jet powered aircraft was built from an amateur homebuilder kit that was well ahead of its time.
Don't miss this incredible machine fly through the skies of West Texas!
Tickets can be purchased online at http://www.airsho.org or locally in the Midland-Odessa, Texas area at Western National Bank, Domino's Pizza and 7-Eleven stores.
For more information visit http://www.airsho.org or call (432) 563-1000.