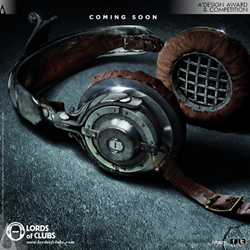 Como, Italy (PRWEB) September 07, 2013
A' Design Award and Competitions are happy to share that the work Medieval Headphones by Suigeneris Barcelona has been granted the prestigious Golden A' Design Award in Computer Graphics and 3D Model Design Category highlighted as one of the winners by the international judging committee of the A' Design Awards & Competitions among a great number of works.
More on Medieval Headphones
Medieval Headphones is a teaser campaign for a new international project of Livestreaming Top Djs' - Lords of Clubs. A campaign aimed at creating a mystery around the project so everyone will become attentive when it is being unveiled.
Learn more: http://www.adesignaward.com/design.php?ID=28510.
Project Members for Medieval Headphones
Medieval Headphones was conceived by Agency - Save Your Numbers, Managing Director - Isidoro Andaluz, Creative Director - Diego Otero Rodríguez, Account Manager - Tino López Freixas, Music Director - Peter Pons, Graphic Designer - Jordi Alonso, Photography - Raúl Ortega (Red Light Studio), 3D & Digital Art - Alex Lorca and Photo Retouching & CGI - Kim Boix (reto.cat)
The Golden A' Design Award
The Golden A' Design Award is a prestigious award given to top 3% percentile designs that has attained an exemplary level of greatness in design. The designs are judged by a panel of three different jury which is composed of Academic, Professional and Focus Group Members. The designs are evaluated with score normalization to remove any biases and are voted on aspects such as functionality, ergonomics, engineering, presentation, innovation, usability, fun details, technology, and any other specific points that could be considered, each of these points are further weighted for different jury groups.
About A' Design Award and Competitions
A' Design Award and Competitions, aims to highlight the excellent qualifications of best designs, design concepts and design oriented products. A' Design Award and Competitions are organized and awarded annually and internationally in multiple categories to reach a wide, design-oriented audience. To learn more visit: http://www.whatisadesignaward.com.