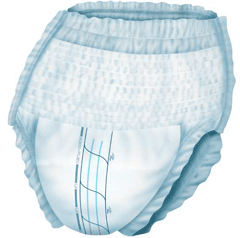 Neenah, WI (PRWEB) September 04, 2013
Next month someone will win a case of premium-quality Abena Abri-Flex protective underwear and a box of Heaven Scent disposal bags through The CareGiver Partnership's "Helping You Get On With Life" monthly sweepstakes. Lynn Wilson, Founder of The CareGiver Partnership, a national retailer of incontinence products and other home health care supplies, says this sweepstakes prize pack is ideal for those managing incontinence.
"We love Abri-Flex, Abena's line of protective underwear, because of how they benefit skin and the environment," says Wilson. "Like all premium-quality disposable underwear, they offer great comfort and protection, but they also offer several eco-friendly features."
The absorbent middle in Abena products is sourced from replenishable forests, and all raw materials are controlled to reduce air pollution. Not more than 5 percent waste is allowed in the manufacturing process, and all water used in manufacturing is cleaned and recycled. They also help keep the wearer's skin healthy because they're breathable, and contain no perfumes, lotions, PVCs or other harmful chemicals.
The prize pack includes a case containing 84 pairs of Abri-Flex premium protective underwear and a package of 50 Heaven Scent premium scented bags. The disposable underwear has a cloth-like, breathable outer cover with double the elastic threads for a comfortable fit. The absorbent core offers superior protection in a pull-up style similar to regular underwear. The winner selects his or her preferred absorbency and size.
Heaven Scent premium scented bags are designed for discreet disposal of incontinence, feminine hygiene or baby products. "Normalcy is important to our customers, and they like that the powder scent of these bags masks unpleasant odors and the opaque design hides the contents," Wilson says. The bags come in a portable package of 50 that fits in a purse or pocket.
The CareGiver Partnership's September sweepstakes prize pack is valued at $148.94. To win, participants need only e-mail or mail a short statement explaining why the prize would be useful to him or her or a loved one. The CareGiver Partnership will accept entries for this prize through Sept. 30 and will notify the drawing winner within the first week of October.
The CareGiver Partnership created the "Helping You Get On With Life" monthly sweepstakes to raise awareness of products and services that help seniors live independently and make caregivers' jobs easier. To learn more about the two easy ways to enter and preview upcoming giveaways, visit The CareGiver Partnership "Helping You Get On With Life" sweepstakes page.
The CareGiver Partnership is a national direct-to-consumer retailer of home healthcare products for incontinence, diabetes, nutrition support and more. In its seventh year of providing products and services that help caregivers and loved ones maintain personal dignity, the company also offers an online library of more than 1,400 family caregiver resources and personal service by experts in caregiving. Call 1-800-985-1353 or visit online at http://www.caregiverpartnership.com.