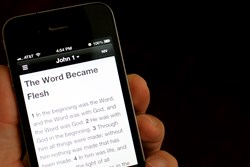 Colorado Springs, CO (PRWEB) September 04, 2013
Since launching five years ago, the Bible App™ by YouVersion has been installed on more than 100 million devices, revolutionizing the way people access the Bible. Until now, however, some of the world's leading Bible translations, including the popular New International Version® (NIV), were accessible only when app users were connected to the Internet.
Now, as of September 1, YouVersion users can download the entire NIV Bible to their devices, along with nearly 30 other translations published by Biblica — making it easier than ever to engage the Bible in many of the world's top languages, even when offline.
"God has used the Bible App in some remarkable ways over the past five years," said Scott Bolinder, Executive Vice President for Biblica. "With YouVersion's massive global impact and with our vision to reach over five billion people with God's Word, it just made sense to allow free access to our Bible translations all the time, not just when people are online."
"We're thrilled about Biblica's bold move to make this diverse collection of versions available to the global YouVersion community for offline download," said Pastor Bobby Gruenewald of LifeChurch.tv in Oklahoma, who came up with the idea of using technology to make the Bible more accessible on smart phones and tablets. "It's a huge step forward in increasing worldwide Scripture engagement and availability. Biblica has been a valuable partner since YouVersion's early days, and they continue to demonstrate increasing passion about the mission of helping this generation become the most Bible-engaged generation in history."
In addition to the NIV, Biblica will offer offline downloads of the Bible in Chinese, Spanish, Korean, Portuguese, French, Russian, Thai, and several other languages. Biblica has published 100 full Bible translations, with a potential reach of five billion people.
"We believe everyone deserves access to the whole Bible, translated with accuracy and clarity so you can experience God's transforming message in your heart language, wherever you are," said Bolinder.
Meanwhile, YouVersion's Bible App has become a critical platform for reaching people with the Bible:

More than 12 million devices have opened one of Biblica's translations through the Bible App this year, with nearly 10 million opening the NIV.
In 2013 alone, more than 800 million chapters of the Bible have been read using one of Biblica's translations.
YouVersion users have shared Bible passages from the NIV nearly 7 million times.
"I tell people all the time that Bible publishing partners are the true heroes in YouVersion's story," said Pastor Gruenewald. "Without Biblica's partnership over the last several years we wouldn't have reached the number of people we've reached."
Offline access to the NIV is one of the more common requests from people using the Bible App. "This is something our YouVersion community will be very excited about," explained Pastor Gruenewald. "They have been eager to have offline access to the many popular translations from Biblica. Now they will be able to open some of their favorite versions in the Bible App, no matter where they are."
About Biblica
Biblica helps millions of people access the Bible and read it well so their lives are transformed by God's Word. We serve in 55 countries, and our publishing portfolio includes 100 full Bible translations with a potential reach of five billion people. We also partner with churches to help them engage the Bible together through Community Bible Experience and other initiatives. Biblica is the translation sponsor and worldwide publisher of the New International Version® (NIV®), the most widely used contemporary English translation of the Bible.
About the Bible App by YouVersion
The Bible App™ by YouVersion offers more than 625 versions of the Bible in nearly 400 languages. It was among the first 200 free apps in Apple's iTunes store launched on July 10, 2008. Five years later, over 100 million mobile devices have downloaded the Bible App. For the last three consecutive years, Apple has ranked the Bible App among the top 100 free apps. Today it's available for virtually every mobile device. The Bible App also contains over 350+ reading plans, each with specific selections of God's Word that can help anyone tackle anything. The plans provide a daily dose of Scripture along with devotionals to read, watch, and listen to. YouVersion is a ministry of LifeChurch.tv, a multi-site church based in Oklahoma. Meeting in 16 different physical locations and globally online, the church is devoted to lead people around the world become fully devoted followers of Christ.