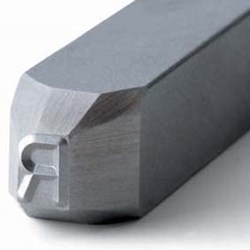 Cliff Lowe, the Managing Director of InSite Solutions explains, "Using metal stamps to create labels proves to be long lasting, versatile, and cost efficient."
Wake Forest, NC (PRWEB) September 24, 2013
Stop-painting.com has recently added a new line of metal number and letter stamps to help customers meet all of their labeling needs. The metal stamps can be purchased individually or in number and letter sets in a variety of quality levels. Stop-painting.com offers all of their stamps in standard, heavy duty, premier, and rhino quality levels.
Furthermore, these metal stamps are available in a variety of character sizes for labeling. To satisfy areas of aircraft, nuclear, and gas industries, Stop-painting.com offers low stress stamps in round face and dot formation designs. Stamps come in code and symbol models to allow for production and quality control for certification or inspection. Steel types and holders are available for multi-character marks, and these holders help hold stamps in straight lines to help with uniformity and neatness in stamping.
In accommodation with the new line of metal stamps, metal tags are available as well. These tags are available in aluminum, brass, and stainless steel.The tags are cut in square, hexagon, octagon, round, and several different rectangle shapes to allow for versatility. Large writeable aluminum tags and cable tags are also available.
Cliff Lowe, the Managing Director of InSite Solutions explains, "Using metal stamps to create labels proves to be long lasting, versatile, and cost efficient."
Metal stamped labels can be used to label various equipment in the workplace for the purpose of inventory. Metal labels are durable throughout the use of the equipment and help in the accuracy of inventory. Metal labels are also ideal as identification tags for areas that are exposed to high temperatures, high traffic, cleaning, and weather where as alternatives would be damaged and need replacing often.
An instructional video can be found at http://youtu.be/h-cQdF6UQqw.
Please visit Stop-Painting.com for complete product information or call 1-866-284-1541.
Stop-Painting.com is apart of InSite Solutions.
InSite Solutions is the manufacturer of Superior Mark tape. InSite specializes in floor marking solutions that increase safety, organization, and efficiency in the workplace. They offer Superior Mark and a variety of other traffic control solutions for sale on their ecommerce website, http://stop-painting.com.