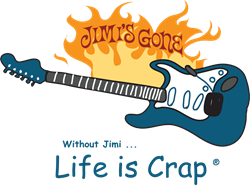 Rock & Roll may Never Die … but Rock Stars Do.
Manchester, Vermont (PRWEB) September 03, 2013
The funny t-shirt guys at Life is Crap take their rock and roll very seriously and it's no laughing matter to them when a rock star's flame is extinguished too soon.
In order to celebrate some of the greatest Rock and Roll legends of all time, Life is Crap is launching a unique collection celebrating some of their favorite rock stars and those that have had a significant effect on Rock & Roll and the generations they spoke to, as well as millions of fans that came after. Offsides, LLC., the owners of Life is Crap and Wine is Life brands feel that life without these rock heroes is truly "crappy" – so in order to keep their spirits alive they have created an initial collection of five designs celebrating the lives of:
Michael Jackson – June 25, 2009
Jerry Garcia - Grateful Dead 8/9/1995
Bob Marley - The Wailers 5/11/1981
Jim Morrison - The Doors 4/3/1971
Jim Hendrix - The Jimi Hendrix Experience 9/18/1970
Studio Manager, Dean Darling, exclaimed, "Each one of these legends had an undeniable impact on rock and roll and have changed the face of the music industry forever. No matter how they died, naturally or tragically – it left a big void in the music world."
These first five will be followed by a second grouping in time for the holidays. The owners of life is crap encourage people to visit the site – check out the new designs, and write in their favorite rock star.
"We will be selecting another group of five legends in October," says Paul Wheeler, one of the partners at Life is Crap, "and we want to know who our fans would like us to celebrate.
About Life is Crap®
Life is Crap® is a humor based apparel company, with a focus on tees, hoodies, and gift items. Our brand focuses on crappy situations and pokes fun at the humor within those situations. At Life is Crap® we believe that the universal cure to crappy situations is laughter. We believe that poking a little fun at ourselves, and the world, is the best way to get through those occasional lousy moments. Life is Crap® is the flagship brand of Offsides Branding & Licensing. For more information visit lifeiscrap.com or offsidesbranding.com.