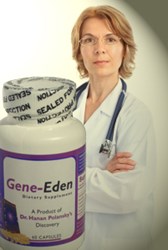 Gene-Eden-VIR safely and effectively decreases symptoms in individuals infected with the Epstein Barr Virus (EBV)
(PRWEB) September 03, 2013
The mission of the CBCD is to find ways to decrease the concentration of foreign DNA in infected individuals. One source of foreign DNA is the Epstein Barr Virus (EBV). Therefore, the CBCD is excited to announce that a new clinical study showed that Gene-Eden-VIR safely and effectively decreases symptoms in individuals infected with the Epstein Barr Virus (EBV) (1). The study was published in the peer reviewed, medical journal Pharmacology & Pharmacy, in a special edition on Advances in Antiviral Drugs.
This paper is unique because it reports a clinical study on a proprietary, patent protected, natural formula in a peer reviewed, medical journal.
Study authors wrote that, "individuals infected with EBV … reported a safe decrease in their symptoms following treatment with Gene-Eden-VIR (1)." The study authors also wrote that "We observed a statistically significant decrease in the severity, duration, and frequency of symptoms (1)."
Although there are a few antiviral drugs that can treat an EBV infection, they are not licensed for clinical use according to a study published in The Journal of Microbial Chemotherapy in August of 2005 (2). Moreover, "Regimens that have been used empirically and in clinical trials have been largely ineffective, and as such have prompted the search for more effective approaches (2)."
That study's authors went even further and wrote that "For latent infection and EBV-related malignancies … development of novel antiviral drugs … are among the more promising approaches that might lead to effective treatment of EBV-related diseases (2)."
The CBCD believes that Gene-Eden-VIR is just such a promising development. Gene-Eden-VIR was shown to be an effective treatment of EBV infections, reducing symptoms with no side effects. In fact, study participants "reported no side effects after taking Gene-Eden-VIR (1)."
Since the CBCD believes in Dr. Polansky's theory that identifies latent viruses as the cause of most major diseases, the Center sees Gene-Eden-VIR as an important first step towards curing a latent EBV infection.
To view the entire paper, visit: http://www.scirp.org/journal/PaperInformation.aspx?PaperID=36101 
We invite the media to contact us for interviews at: info(at)buy-gene-eden(dot)com or phone 585-250-9999.
References:
(1) http://www.scirp.org/journal/PaperInformation.aspx?PaperID=36101 
(2) http://www.ncbi.nlm.nih.gov/pubmed/16006448 
The Center for the Biology of Chronic Disease (CBCD, http://www.cbcd.net) is a research center recognized by the IRS as a 501(c)(3) non-for-profit organization. The mission of the CBCD is to advance the research on the biology of chronic diseases, and to accelerate the discovery of treatments.
The CBCD published the "Purple" book by Dr. Hanan Polansky. The book presents Dr. Polansky's highly acclaimed scientific theory on the relationship between foreign DNA and the onset of chronic diseases. Dr. Polansky's book is available as a free download from the CBCD website.