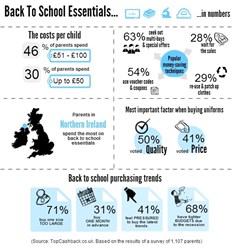 London (PRWEB UK) 2 September 2013
• 46% of parents spend between £50 to £100 per child on back to school essentials

63% of parents seek out multi-buys and special offers whilst 29% re-use hand me downs and patch up clothes at home
28% of parents wait to purchase their children's back to school essentials in the sales
71% purchase uniform's one size too large to ensure they last longer
The Survey results are broken down in the 'Back to School Essentials in numbers' info-graphic.
Case studies are available to talk about their tips and tricks on back to school purchases including:
CASE STUDY: Savvy mum of three and self-proclaimed "money-saving obsessive"
Thirty five year old mum of three, from Hertfordshire has been busy preparing for her two eldest boys' back to school essentials this month. Always on the look-out for ways and means of keeping costs down, she shops as soon as the holiday begins, as all sizes tend to still be in stock at this point, and looks for bargain deals such as 2 polo shirts for £2. She'll also bulk buy to ensure she doesn't run out during the year and plans in advance by shopping in the February/March sales to save money on cheap winter coats and plimsoll deals. Also, not one to turn down freebies, the savvy mum will supply the children with water bottles given to her at work and gladly accepts free hand-me-downs from friends that can be re-used. Cleverly, when it came to purchasing the boys school jumpers; she also planned ahead, purchasing one size too large last term to ensure the boys' would still get plenty of wear out of the uniform for the new term ahead.
Notes to Editors
Survey results based on a response of 1,107 parents
[1] Reference
Media contact
For information about TopCashback.co.uk, interviews, comments, consumer spending patterns insight and access to 100s of consumer case studies, please contact press(at)topcashback(dot)co(dot)uk or call Francesca Williamson or Lindsey Casey on 020 3489 6464.
About TopCashback (http://www.topcashback.co.uk)
TopCashback.co.uk, the UK's most generous cashback site, passes up to 105% of the commission rate that retailers pay it - to advertise their products and services – back to its members. The site has more than 2.1 million members, which is more than double the amount of members in the last two years alone.
TopCashback includes more than 3,900 merchants, from high street big names to smaller, niche online sellers. £4 million cashback is earned by TopCashback's members each month, with £600 million worth of transactions passing through it each year. Consumers effectively get, on average, an 8% discount on each transaction they make simply by clicking through to their chosen retailer via TopCashback.co.uk, instead of going to the retailer's website directly.
TopCashback also provides consumers with discount codes and vouchers, which can be used in conjunction with earning cashback. In 2012, it launched seven product-comparison tools, covering credit cards and insurance policies, which uniquely find the cheapest, and most appropriate, products for consumers' needs while paying the commission rate to the individual as a cashback rebate on top.
In January 2013, TopCashback was the first cashback site to provide consumers with access to money-saving services through mobile phone camera technology with its 'Snap & Save' service, which gives shoppers cashback on in-store purchases.
In June 2013, TopCashback launched 'TopCashback Plus', which enables members to get the very best, unrivalled rewards from their shopping. Plus members receive 105% cashback on all purchases and fast-track customer service in addition to a host of other features. The 'TopCashback Classic' free service is still available to members inclusive of all its original benefits.
TopCashback.co.uk was named Britain's 35th fastest growing private company in The Sunday Times Virgin Fast Track 100, in December 2012. In 2011, it ranked fifth in the league.