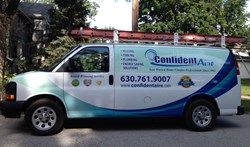 We have significantly expanded our staff of plumbing experts enabling us to offer homeowners a more complete solution to their home servicing needs.
Batavia, Illinois (PRWEB) September 27, 2013
Confident Aire Inc., a leading HVAC Company in the Western Suburbs of Chicago, announces a dedicated Plumbing Contractor Services Department that is ready to take care of any plumbing challenges that homeowners and commercial building managers may have. "While we have done plumbing projects on a small-scale basis in the past, we have now significantly expanded our staff of plumbing experts. This enables us to offer homeowners a more complete solution to their home servicing needs," said Tom Wangler, owner and president of Confident Aire. "We are now completely committed to providing 24-hour, round-the-clock service to handle any emergency service relating to both HVAC and plumbing repairs."
In addition to their expertise in heating and cooling, Confident Aire now has an expanded offering of home services that includes a full range of plumbing-related jobs including drain clearing, faucet repairs, sump pumps, hot water heater installation, toilets, pipe work, new sink and faucet installations, water softener installations and more. Confident Aire is now fully equipped to service, maintain or install all types of plumbing-related fixtures on both a planned or 24-hour emergency service basis.
Confident Aire is dedicated to providing the best quality service possible and always at an affordable rate. Their HVAC and plumbing technicians are fully licensed, uniformed, friendly and courteous. "Our attention to detail, fast responsiveness and friendly professional service have helped us complete thousands of projects the first time, which means peace of mind for the homeowner," says Wangler.
Promotional specials are now offered by Confident Aire as they celebrate their official launch into the plumbing category. Specials include a $50 coupon good towards any plumbing repair over $250 or $100 off any new installation of a hot water heater and up to $250 off on any new tankless hot water heating system.
The Illinois HVAC and plumbing company, Confident Aire, Inc. was voted by readers of the Kane County Chronicle newspaper as Best Heating and A/C Service Company for the sixth year in a row. Confident Aire invites you to learn more about their services by visiting their website or calling 630-761-9007. Confident Aire, Inc. is located in Batavia, Illinois and is centrally located serving Kane, Kendall, DuPage and DeKalb Counties in the western Chicago suburbs of Illinois. Call 630-761-9007 for more information, stop by the showroom at 416 East Wilson Street, Batavia or visit confidentaire.com.