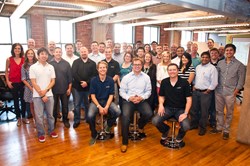 The Inc. 500|5000 recognition reaffirms capSpire's mission to provide high-quality, innovative solutions that represent excellent value for our clients. -- capSpire CEO Lance Laubach
Fayetteville, Arkansas; Tulsa, Oklahoma; Houston, Texas (PRWEB) September 03, 2013
capSpire, a global consulting and solutions company serving the energy industry, announced today the firm has been ranked by Inc. Magazine on the exclusive Inc. 500|5000 List of Fastest-Growing Private Companies in America. The list represents the most comprehensive look at one of the most important segments of the economy—America's independent entrepreneurs. capSpire's growth and success within the last three years ranked the company as the fastest growing private company in Arkansas; capSpire placed 773rd on the annual Inc. 500|5000 list.
"The Inc. 500|5000 recognition reaffirms capSpire's mission to provide high-quality, innovative solutions that represent excellent value for our clients. We are most proud that this recognition comes as we aren't focused on growth for the sake of growth, but rather finding better ways to solve problems, building a world class team, and executing each project in a manner consistent with capSpire's core values," says capSpire CEO Lance Laubach.
In an economic climate where many businesses are downsizing, capSpire experienced 531% growth over the past three years and grew by fifty percent in 2012. The firm expects substantial growth in 2013, and has increased its employee total by forty percent in just the first half of 2013.
Within the last year, the firm further developed and expanded its suite of commodity trading and risk management (CTRM) offerings to cater to new platforms and provide commodity trading software selection services. In 2012, capSpire also expanded within complementary verticals, including the addition of Enterprise Content Management (ECM) services and the release of capSpire's flagship product, Gravitate.
"The growth and expansion around capSpire's core offerings is just the tip of the iceberg as we continue to identify problems our clients need solved. We've expanded from one consulting offering to a wide array of complementary services across various platforms and verticals. We will continue to partner with our clients to solve hard problems and focus on their success," says capSpire co-founder Mike Scharf.
With established offices in Northwest Arkansas and Tulsa, Oklahoma, capSpire recently expanded its market presence in Texas and will soon add an office in Dublin, Ireland. capSpire co-founder Jeff Hardcastle attributes much of the firm's success to its locations.
"capSpire is honored to be listed among the most innovative and influential companies in America. We established offices in two of the most entrepreneur-friendly locations in the country, and both Northwest Arkansas and Tulsa have been great places to grow our company. We are excited about the recent addition of several employees in Dallas and Houston, Texas, as well as our plans to open a European practice in Dublin, Ireland," Hardcastle says.
capSpire wants to thank its customers for their continued partnership and is excited to work with them in the future to solve tough problems through innovation. The firm attributes its growth and success to the relationships forged with its clients across the Americas and overseas.
About capSpire
capSpire is a global consulting and solutions company that creates, customizes, and implements meaningful technology for commodity focused organizations. With expertise in commodities trading, risk management, and complex enterprise content management, capSpire creates valuable business process and technical solutions for Fortune 500 companies. The firm's flagship product, Gravitate, is revolutionizing the way companies communicate with their clients. capSpire offers an unparalleled leveled of service and is headquartered in Northwest Arkansas, with an office in Tulsa, Oklahoma. The firm was recently recognized as the fastest growing private company in Arkansas. Visit http://www.capspire.com for more information.
About Inc.
Founded in 1979 and acquired in 2005 by Mansueto Ventures, Inc. is the only major brand dedicated exclusively to owners and managers of growing private companies, with the aim to deliver real solutions for today's innovative company builders. Total monthly audience reach for the brand has grown significantly from 2,000,000 in 2010 to over 6,000,000 today. For more information, visit http://www.inc.com.