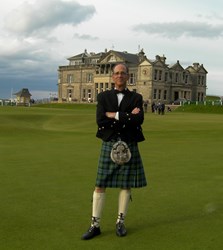 There's no one whose knowledge and expertise I respect more than Brad's on the subject of what makes a golf course, both classic and modern, great.
Myrtle Beach, SC (PRWEB) September 01, 2013
Klein has been writing for Golfweek since Oct. 1988, the last 10 years full time as architecture editor and director of the "Golfweek's Best" course rating program. A former PGA Tour caddie, he holds a Ph.D. in political science and was a university professor for 14 years. He has written five books on golf course design, including the definitive biography, "Discovering Donald Ross," which won the industry's highest literary honor in 2001, the USGA Herbert Warren Wind Book Award. Brad is a highly sought after and frequent industry lecturer on golf design, maintenance, economy and the media, and no one is more qualified to talk about the nature and subtlety of course design, or the qualities that make a course considered a classic. The connection of the modern courses with the world's great courses and architects will certainly be an interesting and informative one for golf lovers around the world.
Brad's newest and just published book, "Wide Open Fairways: A Journey Across the Landscapes of Modern Golf," is a meditation on what makes golf courses compelling landscapes,
and is also a personal memoir that follows Klein's own unique journey across the golfing terrain, from the Bronx and Long Island suburbia to the American prairie and the Pacific Northwest.
Look for a truly interesting discussion on the only internet radio show dedicated to connecting the traditions, history, champions and equipment of the early game to the modern golf we love.