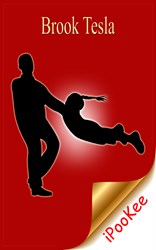 Love your country for its strengths, and even more so for its vulnerabilities.
(PRWEB) September 04, 2013
Mr. Brook Tesla, the author of the novel iPooKee announced the release of his book in a variety of e-book formats. The novel will also be available in print by the end of the year for readers who do not have access to electronic publishing media.
"The events of September 11 changed my life, affected my views, and motivated me to write this novel," said Author Brook Tesla. "How do you explain to a child such unspeakable tragedy? How could anyone make sense of this destruction? Had our leadership failed to protect us? Is our country in decline? The 10-year-old PooKee, the heroine of my book, asks these questions as she is searching for her missing father. Like all of us, I wished that history could be reversed. That 9/11 would have never happened. Could PooKee change the course of history as she possesses the power of time bending?" Author Brook Tesla concluded.
A growing number of readers agree that Mr. Tesla's novel is neither gloomy nor dominated by despair and hopelessness. From the ashes of September 11, optimism rises and rekindles hope in peoples' hearts. One of the most memorable phrases in the book reflects this: "Love your country for its strengths, and even more so for its vulnerabilities."
One reader is mesmerized by the novel's humor and the unconditional father-daughter love: "iPooKee follows a brave young girl as she searches the virtual world for her father, who disappeared on September 11. Like the Louisa May Alcott classic, "Little Women," the book demonstrates the immortal power of love. Like the Harry Potter series, it is as interesting to adults as it is to children. It is exciting, funny and poignant, all at the same time. PooKee, the heroine of the book, is a wonderful role model for tweens. I highly recommend this book."
Another reader expressed a different view: "I laughed out loud. A wonderful romp through the edges of reality and cyberspace. The book is touching, farcical and a fun read while exploring the pain of a sudden loss associated with the events of 9/11."
Order iPooKee eBook: Kindle, Nook, iTunes Book Store, Google Play, Kobo