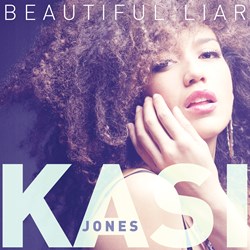 'After watching the video...there is little doubt...Kasi Jones is a star.' - Dave Pensado, 9X Grammy Award winning engineer
Los Angeles, CA (PRWEB) September 01, 2013
NBC's "The Voice" alum, and LA favorite Kasi Jones, releases her debut single and music video "Beautiful Liar," the title track of her upcoming Alternative Soul EP "Beautiful Liar."
"After watching the video, there is little doubt...Kasi Jones is a star." -Dave Pensado, 9X Grammy Award winning engineer (Beyonce, Christina Aguilerra).
This marks the first release for Jones who has been honing her chops as one of the most sought after live performers in Los Angeles, from opening for Robin Thicke, to sharing the stage with Roger Daltrey, Neyo, and Jamie Foxx, to name a few. Jones has organically created a buzz and following all on her own.
The song, written by Jones and JOA, blends soulful vocals with live instrumentation that hearken back to the glory days of soul music. The rhythmic melody infuses jazz elements, which, combined with the dynamic horn lines and catchy hook, has drawn much comparison to the 70's supergroup Tower of Power.
Conceived by Jones and Aja Patrice, aka Director Kitty (founder and head of the Los Angeles based multi-media collective Fearless Rock Projects Inc.), the Beautiful Liar music video follows Jones through "a day in the Life post break-up" and was filmed in her own home intermixed with shots from the actual recording sessions. Jones says, "this was the first song I wrote after a pretty gnarly break up, and recording it was such a labor of love, I couldn't have done it with out my amazing music community here in LA, so I wanted the video to represent that, to be a celebration of life moving forward, versus a memorial for lost love."
Available on iTunes, Amazon, and all major online retailers.
View Beautiful Liar and get your free download exclusively on http://www.KasiJones.com.