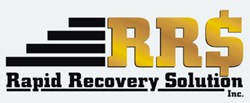 Bohemia, NY (PRWEB) September 03, 2013
Rapid Recovery Solution, Inc. is encouraged by new data that reveals an overall increase in approved loans for America's small businesses.
According to an August 14 article from Fox Business titled "Big-Bank Loan Approvals for SMBs Up 50%, Survey Finds," small businesses are applying for loans with increased success as the economy recovers. The Biz2Credit Small Business Lending Index revealed that big banks fulfilled 17.4% of loan applications in July 2013, indicating the highest approval rate for small businesses since before the Great Recession. In the larger picture, big banks are approving loans at a 50% higher rate in 2012 than in 2013. Credit unions and alternative lenders are also extending credit in higher volume of late.
The overall economic improvement has increased consumer spending, thus mitigating the risks inherent with commercial loans. Additionally, the Small Business Association is encouraging financial institutions to lend funds with higher consistency, often regardless of credit scores.
John Monderine, CEO of Rapid Recovery Solution, offers his industry perspective. "We at Rapid, know the importance of ample credit for small businesses. It's encouraging to see banks catch up with the overall economic improvement and support our country's industry." Monderine provides additional insight. "With more funds inevitably leading to increased debt, the services of commercial collection agencies could be especially beneficial for small businesses."
Founded in 2006, Rapid Recovery Solution, Inc. is headquartered at the highest point of beautiful Long Island. Rapid Recovery Collection Agency is committed to recovering your funds. We believe that every debtor has the ability to pay if motivated correctly. We DO NOT alienate the debtors; we attempt to align with them and offer a number of ways to resolve not only your debt but also all their debts.