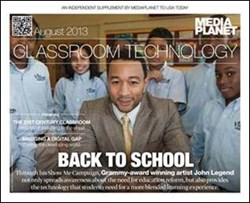 "Start with routines right away as it makes organization much easier. We need to teach organization, it could be one of the most important lessons we ever teach them." - Shelley Walker
Naples, FL (PRWEB) September 01, 2013
Get students organized with Seat Sack and John Legend's back-to-school Show Me Campaign. Creating an organized learning environment is one of the first key steps in getting students organized. Organizational skills are life skills, not just school skills. Studies have found that disorganization leads to lower grades and achievement. Organization also aides in classroom management. How can teachers and parents prepare students with life skills that include organization? According to an article in the Autism Digest written by Michelle Garcia Winner, "Homework and Beyond: Teaching Organizational Skills to Individuals with ASD", there are 10 steps to build organization skills:
1. Clearly define what needs to be done.
2. Motivate the student.
3. Prepare the environment.
4. Break instruction and time frames into smaller individual portions.
5. Use visual structures.
6. Prioritize and plan daily.
7. Hunt and gather.
8. Consider perspective.
9. Communicate and then communicate some more.
10. Completion and reward.
The basis of the John Legend "Show Me Campaign" is to show students how to develop skills that will lead to success. Our goal as educators is to inspire, motivate, develop, model, coach and enforce the necessary tools for their success and to assist students in reaching their full potential. The Seat Sack Corporation examines these goals as we create new products that assist teachers and parents in the development of organizational skills. Through the use of our products, teachers and parents can model organizational skills to students and gradually increase the scope of a child's responsibility for managing his or her personal environment.
The Original Seat Sack Company, developed by Ann McAlear has been working with parents and teachers to provide organizers for the home, school and office since 1999. With the success of the patented Seat Sack and other classroom organizers, the corporation has expanded its product line to feature a full line of high quality educational products, teacher resources and organizers through the O2Teach division. The passion of both companies is to provide, educational resources and organizers that assist educators and parents in engaging learners and meeting the needs of the individual learner. The company invites visitors to shop http://www.seatsack.com or to view the company's new digital catalogs.