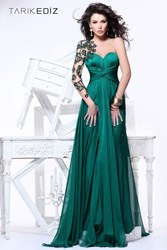 Finally the new Tarik Ediz Fall 2013 Collection is released.
New York, NY (PRWEB) September 04, 2013
Now that fall is here, prepare for homecoming and fall galas with a stunning evening dress from Turkish designer Tarik Ediz for Fall/Winter 2013. Located in New York City, the largest retailer MackTak brings Tarik Ediz right to customer's door. For people having trouble looking for that special dress they cannot go wrong with the illusion bodices, intricate crystal designs, and flattering silhouettes that are synonymous with Tarik Ediz. They can even try on their perfect evening gown in house at the MackTak showroom located in New York City.
Since 1987, Tarik Ediz has been producing beautiful evening dresses beginning with a dress for his daughter, Deniz Ediz. With humble beginnings in Bursa city, his empire has expanded worldwide to a designing atelier that is only gaining in popularity because of the brand's emphasis on ornate details and careful attention to a woman's figure.
These gowns have something for every personality and style. Dresses range from bold and daring with plunging neck lines and thigh high slits to classic and understated with delicate details and an unprecedented focus on fit. There is something for everybody type with column, mermaid, A-line and a variety of necklines. With additional illusion sleeves and bodices, crystal embellishments, and open backs, there are many ways, and dresses, to hide your flaws and highlight all of your best assets this fall.
The new collection spotlights vivid dark and bright colors as well as an emphasis on embellishments and embroidery. The silhouettes vary so that there is something for everyone. While trendy cutouts make an appearance throughout the collection like Tarik Ediz 92239 dress, you can also choose a chic option like Tarik Ediz 92298 dress with a sophisticated mermaid silhouette and exquisite crystalline beading. Tarik Ediz dresses can easily be worn for any elegant occasion this season such as an evening wedding, charity balls, and award shows.
About MackTak.com:
MackTak was founded by Mack Tehrani and the support of a close friend Ali Dowlaty. The business first started when they started a band in college, where they created and sold unique and crystal encrusted t-shirts under the name MackTak Collection to their fans and friends. Today the brand has developed so much from the college days and is now a successful online retailer that specializes in prom, evening, and cocktail dresses. They carry more than fifty designer dresses and is growing rapidly. They also offer free shipping and exchanges.