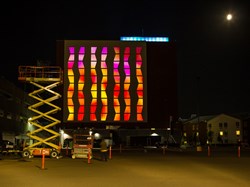 "This is like the Fourth of July, only its a technological wonder thats better than fireworks." -Todd Defoe, Director of Marketing for Black Bear Casino Resort
Chicago, IL (PRWEB) September 04, 2013
Chicago Projection Mapping, a Chicagoland-based content and projection company, announced the release of the first videos from Black Bear Casino Resort's projection mapping display. The one-night-only display, over 15,000 square feet in size, was revealed to audience and critical acclaim in the Northland. Though videos have been circulating from the live audience on social media, this is the first opportunity to feel the full impact of the presentation in high definition.
The outdoor architectural display was closely linked to the Black Bear Casino Resort 20th anniversary brand relaunch. Projection mapping was sought out by the casino's marketing strategy as a new way to unveil the brand via a promotional event that exceeded traditional media, all while making a personal connection with their audience. Using techniques traditionally incorporated by international brands in Las Vegas and New York, Chicago Projection Mapping collaborated extensively with Black Bear to maximize the impact of the display, custom-designing every element of the experience to reflect the grand vision of the new brand.
"This is like the Fourth of July, only its a technological wonder thats better than fireworks," said Todd Defoe, Director of Marketing for Black Bear Casino Resort. "We had thousands of people on the property checking this out, and I cant think of a single better way to unveil a new brand. Something of this scale, it suits the scale of the brand we're unveiling, it suits the scale of the casino."
The 3D projection mapping event was immediately hailed a success, attracting thousands of viewers for each of the three showings. Animation, video, and cutting-edge graphical techniques were used to tell an unfolding story that spanned the four seasons. Black Bear Casino event coordinators further expanded the display into an outdoor festival on their event grounds, complete with food and beverage vendors and live music, as well as the premiere of four new commercials for the Casino Resort set to air throughout the coming year.
Chicago Projection Mapping continues at the top-tier of the midwest's growing 3D and 4D projection mapping industry. The full video is available via this link, with individual seasons available for condensed viewing as summer, autumn, winter, and spring here. For inquiries regarding the display, or for a free consultation, please email info(at)ChicagoProjectionMapping(dot)com.
About Chicago Projection Mapping:
Based in Chicago, IL, Chicago Projection Mapping is a full service content creation and 3D projection mapping company, serving the corporate, event, meeting, and convention sectors. For more information, please visit http://www.ChicagoProjectionMapping.com, or call 630-620-0000.