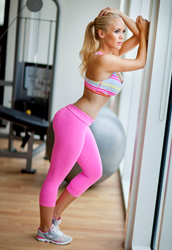 'The "Brazilian Backside" training series will help you stay fit while sculpting and defining shapely curves. The powerful workout plan can be combined with the Moriche Palm Diet to maximize your results.' - Dominica Westling
Los Angeles, CA (PRWEB) September 04, 2013
Great news for THE MORICHE PALM DIET. This nutritional supplement line is committed to helping women stay fit by teaming up with fitness trainer Dominica Westling, aka Booty by Dom, to launch its first-ever Body Sculpting workout series to be released in September of 2013.
Dominica Westling delivers a powerhouse dynamite workout in just 20 minutes using a combination of special "glute isolating" and "muscle conditioning" techniques combined with free weights, the kettlebell, and core strengthening to maximize your results in half the time.
THE BRAZILIAN BACKSIDE workout series can be combined with the Moriche Palm Dietary Supplements and Herbal Body Sculpting Creme to help women define shapelier curves and a firmer backside in just weeks.
"Working with Dominica to launch the Brazilian Backside workout series has been an absolute pleasure. Dominica's amazing power-packed workout routine helps motivate women to achieve 'That Perfect Butt' in less than 20 minutes a day." - Alexa Cruz, partner at Herbal Tropics
You may know Dominica Westling from her starring roles in numerous television appearances and her role on the hit TV show "Joan & Melissa: Joan Knows Best." The beautiful Maxim magazine model is expanding her niche in the fitness profession, working with the Moriche Palm Diet as their brand ambassador and fitness model for 2013-2014.
Herbal Tropics plans to release the first-ever preview for the Brazillian Backside workout series to all fans and followers via social media on September 12th at 5:00 p.m. PST.
About the Moriche Palm Diet: The Los Angeles-based nutritional company Herbal Tropics is embracing a holistic approach to weight loss and body contouring. Herbal Tropics has explored the world of natural health and beauty and has burst into the health and fitness world with a passion to help women regain confidence and pride in their bodies by embracing their curves. The Moriche Palm Diet has a lighter, healthier, and holistic philosophy that supports natural body shaping with stimulant- and caffeine-free ingredients intended to bring nutritional balance back to the body to support more effective weight management.
###