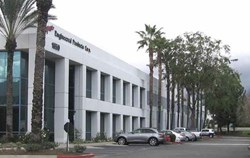 (PRWEB) September 03, 2013
Amstar, a Denver-based real estate investment manager, on behalf of one of its public retirement system clients, announced today the acquisition of 1650 Archibald, a 180,000 sf single-tenant industrial property in Ontario, CA. The acquisition is the latest for Amstar and Huntington – BlackRidge (a joint venture between Huntington Industrial Partners and BlackRidge Real Estate Group), and brings the Amstar and Huntington industrial portfolio to 2.3 million square feet across 15 properties throughout the Southeastern US, Texas, and California. The investment fits within Amstar's overall industrial strategy, which is focused on the acquisition of undervalued properties that are substantially leased and well-located in strong U.S. industrial markets with the potential to provide high current income and attractive investment returns. Constructed in 1993, the Property is located at 1650 Archibald Avenue within the Inland Empire West submarket, approximately 3 miles from Ontario International Airport. The Property is currently 100% leased to Atrium Windows and Doors, Inc., one of the largest manufacturers of residential vinyl and aluminum windows and patio doors in North America.
"Amstar's acquisition of this fully leased building will continue to generate current income returns for our client. In addition, the property provides increased geographic diversity to the current portfolio, and provides an entry into the Inland Empire, which continues to be an attractive industrial market due to its proximity to the Ports of Los Angeles and Long Beach," said Amstar Senior Vice President Tricia Noble, who leads the firm's industrial investment platform.
"This property is consistent with our strategy of purchasing institutional quality assets in key industrial markets at discounts to replacement cost. We are pleased to partner with Amstar and expand the existing Amstar portfolio to include the key logistics market of Inland Empire West," said Anthony Brent, principal of BlackRidge Real Estate Group.
About Amstar
Established in 1987 and headquartered in Denver, Colorado, Amstar is a real estate investment manager that acquires, develops and manages office, multifamily, retail, hotel and industrial properties in select U.S. and international markets. Originally formed to invest and manage the real estate allocation of a large family office client, Amstar began expanding its capital strategy nearly a decade ago and has grown to more than $2.5 billion in assets under management (as of June 30, 2013). Today, Amstar is proud to provide a high degree of focus and attention to its client relationships, counting among them leaders in the private and institutional investment community. Amstar's clients originate from across the globe and include U.S. and European institutions, insurance companies, private banks, funds of funds, and other family offices.
About Huntington Industrial Partners
Huntington Industrial Partners is an industrial real estate operating company with a strategic focus on acquiring and developing infill industrial properties in select U.S. markets. Huntington has offices in Atlanta, Dallas, Denver and Southern California that are staffed by local teams with extensive industrial experience, local market knowledge and established networks of market contacts.
About BlackRidge Real Estate Group
BlackRidge Real Estate Group is a real estate investment and operating company actively seeking leased and value-add properties in the industrial sectors of Southern California and Phoenix. BlackRidge is comprised of principals with decades of experience in development, asset management, brokerage and construction.