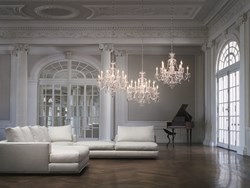 Each creation is a radiant masterpiece of elegance and opulence...
Mendota Heights, MN (PRWEB) September 04, 2013
With the addition of Schonbek, a brand known for its heritage of premium quality and hand craftsmanship, Bellacor will strengthen its lighting selection, service, and value to support its overall vision of being the leading, trusted, expert online retailer of lighting and home furnishings. Like Bellacor, Schonbek is committed to helping customers beautify their environment by providing incredible product selection, service, expertise.
Since 1870, Schonbek has been synonymous with authentic crystal chandeliers of the highest heirloom quality. Each creation is a radiant masterpiece of elegance and opulence, designed to illuminate generations to come.
For more than 140 years, the Schonbek name has carried with it a reputation as a change maker in lighting, revolutionizing the industry. To date, Schonbek is responsible for more than 200 patents.
True to the Schonbek's heritage of handcraftsmanship, each premium chandelier is delicately hand worked in the service of beauty. The result is pieces of exceptional grandeur that are appreciated by traditionalists and modernists alike. A made-to-order brand, each authentic masterpiece shines with its own special character in more than 50,000 combinations of finishes, crystal types and styles.
Schonbek is manufactured exclusively at its global headquarters in Plattsburgh, NY, U.S.A., drawing inspiration from its rich European heritage and longstanding tradition of chandelier making. Schonbek is a member of the Swarovski Group.
Read the whole story and see more images here: Spotlighting