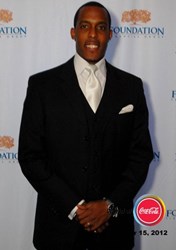 Joining Foundation Financial Group has changed my life in countless ways, big and small, and I'm grateful for every opportunity I've been given here.
Raleigh, North Carolina (PRWEB) September 03, 2013
Foundation Financial Group announced the promotion of Ronald Hurt to Division General Manager. In his new role, Hurt will oversee several sales units at FFG's Raleigh Regional Sales Center, located at 701 Exposition Place #202.
"Ron's progression through our management program has been very exciting," said James Brodsky, chief human resources officer. "He has done a great job with his own teams. So I know that, as a Division General Manager, Ron will mentor his Raleigh managers to great success."
Since he started at Foundation Financial, Hurt has been promoted four times in four years. He started in an entry level position, Marketing Professional, and began taking advantage of FFG's interactive training programs to advance his career. Within six months, Hurt received his first promotion and became a member of Foundation Financial Group's management team.
Foundation Financial Group employees are recognized for outstanding work and top performers at each position are given corporate awards. Excellence in sales leadership and management is rewarded with the company's prestigious Cornerstone Award. Hurt has received seven Cornerstones during his FFG career.
"I enjoy working for a fun, flexible, and growing company," said Hurt, who is ready to tackle his newest challenge. "One of my favorite experiences so far was getting to go on an all-expenses-paid cruise for eight days. Relaxing in a tropical paradise with my FFG family was the ultimate productivity award. Joining Foundation Financial Group has changed my life in countless ways, big and small, and I'm grateful for every opportunity I've been given here."
When Hurt is not at work, he is busy coaching his 11-year-old twins Gabrielle and Noelle and nine-year-old son Ron Jr. in sports, playing billiards, or perfecting his fantasy football strategy. He is also active in his community, volunteering with Habitat for Humanity and the North Carolina Food Bank. Hurt participated in Raleigh's 2013 Susan G. Komen Race for the Cure alongside his FFG coworkers.
About Foundation Financial Group
Foundation Financial Group is a multibillion dollar financial services corporation. FFG offers its customers Best in Class service through its Insurance, Retirement, and Mortgage Services. Named one of the fastest growing financial companies in the country by INC magazine for the third year running, FFG has continued to grow its nationwide presence with over 100,000 new customers per year in 39 states. In addition to the value that Foundation Financial provides every customer, it is also dedicated to its communities and the people who live in them. Through a vast array of philanthropic endeavors, the company not only provides significant monetary donations but also fosters a workforce environment that encourages all team members to personally make a difference. Foundation Financial is committed to its strong focus on customer service and community investment as it continues to grow and compete with the largest financial institutions in the world.
Foundation Financial Group reviews all public relations inquiries. For additional information, interview and image requests, contact the Foundation Financial Group Public Relations Team.