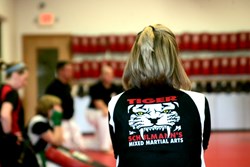 When you learn authentic kickboxing, you are learning the actual techniques which have been proven to be effective in real life situations. Simple aerobic kickboxing classes only simulate the martial art, but you are not learning the actual techniques.
Elmwood Park, NJ (PRWEB) September 01, 2013
One of the fastest-growing fitness trends in the United States is aerobic kickboxing. Kickboxing classes are known to offer substantial weight loss and increased fitness, burning over 800 calories per hour.
Tiger Schulmann's Mixed Martial Arts of Elmwood Park, New Jersey, has established itself as a premiere facility to enjoy the benefits of "authentic" kickboxing. Dozens of athletes trained in Tiger Schulmann's facilities compete professionally in regional, national and international competitions.
"Tiger Schulmann's MMA offers 'authentic' kickboxing lessons," says Alon Feder, Director of Marketing. "Students learn current and effective kickboxing moves where learning proper technique is important. Knowing how to execute the moves properly allows students to gain the benefits and substantially reduce the risk of injury. Many cardio kickboxing classes only simulate kickboxing. Improper technique means the students' skills are not as effective and leads them to be more prone to sustaining injuries," Feder states.
Tiger Schulmann's of Elmwood Park, New Jersey's web-only offer for complimentary kickboxing classes, gloves and $50 savings certificate can be located at this website: elmwoodparkmma.com/kickboxing-classes/.