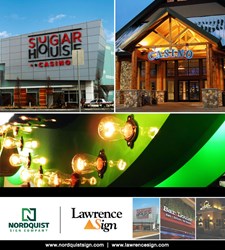 I was attracted to the company's size and breadth of capabilities.
St. Paul, MN (PRWEB) September 03, 2013
David Gunderson, currently the Installation and Service Manager at Nordquist Sign and Lawrence Sign, has steadily advanced his career in the sign industry.
Prior to joining Nordquist Sign and Lawrence Sign team, Mr. Gunderson spent ten years serving as the Lead Installer for Arrow Sign. When Arrow Sign exited the market, Gunderson was recruited by several companies. In his statement, Dave said "I looked at several offers from other sign companies but wanted to be thoughtful and confident about my next career move. I was struck by the efforts of the company and after multiple invitations, I decided to come in and interview. I was attracted to the company's size and breadth of capabilities and impressed by the people I met. Furthermore, the culture of growth through a commitment to their client base was very appealing."
Gunderson joined Nordquist Sign and Lawrence Sign in August 2011 as a lead installer. In November of 2013, recognizing his potential for greater contribution, the Company offered Gunderson the position of Installation and Field Service Manager. During an interview, Gunderson said, "Managing all aspects of our field work has been both exciting and challenging. I have taken on the restructure of how our crews operate and refined our field scheduling process to deliver goods and services in a way that exceed customer expectations while keeping our crews safe on the jobsite."
Beyond scheduling and managing the daily activities of our field crews, Gunderson is responsible for OSHA compliance, fleet maintenance, budgeting, sub-contractor negotiations along with local code and utility compliance. Dave also works closely with the sales team and project managers to keep customers informed about their completion dates and any impact we may have on client operations while on site.
Gunderson states that, "My new position and additional responsibilities have been a challenging career growth experience. The trust of my team, gained through the tangible results we've experienced, is a highly satisfying reward."
Dave plans to continue to expand the Nordquist Sign and Lawrence Sign field service departments, local fleet and add employees as the company continues to serve both local and national customers. Mr. Gunderson, Nordquist Sign and Lawrence Sign are available to help your business grow with custom signage installation and services. He can be reached at dgunderson(at)lawrencesign(dot)com.
About Nordquist Sign & Lawrence Sign
Nordquist Sign has been fabricating and installing custom signs, architectural elements and wayfinding signage for over 100 years. Nordquist's customer base and scope of work includes custom signage and environmental graphics for hospitals, sports facilities, themed entertainment, corporate/financial and mass transit. Nordquist Sign also runs a gaming division with offices in Las Vegas, NV and St. Paul, MN to serve casino gaming markets throughout the United States.
In late 2011, Lawrence Sign, also in business since the early 1900's, acquired Nordquist to combine the unique resources and capabilities of the two companies. Together, Nordquist Sign and Lawrence Sign offer their clients over 175 years of experience in sign manufacturing and installation for all phases of the signage industry.
For more information:
(651) 488-6711 • (800) 998-8901 • http://www.nordquistsign.com • http://www.lawrencesign.com
info(at)nordquistsign(dot)com • info(at)lawrencesign(dot)com