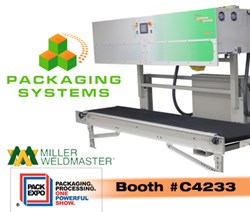 Navarre, OH (PRWEB) September 05, 2013
Miller Weldmaster, the First Choice Globally, will be showcasing at the 2013 PACK EXPO on September 23-25 in Las Vegas, Nevada. The PACK EXPO is the world's largest packaging and processing event, with 26,000 packaging industry professionals and over 1,700 exhibitors projected to be attending this year. The event will gather multiple businesses from the consumer packaged goods industry, to show them the latest innovations in manufacturing and product development. While there, manufacturers will have the opportunity to see the PS400 in action. The bag sealing system incorporates features that optimize a production line's efficiency, precision, and effectiveness, and is easy and effortless to operate.
The PS400 is designed as a comprehensive, time-saving solution for consumer packaged goods manufacturers, especially producers of dry, free-flowing products. Particularly those in the agricultural, animal feed, chemical, and pet food industries will find this packaging system adds great production value to their manufacturing lines. The system can easily be introduced into either automatic filling lines or manual feed systems without any reduction in productivity or ease of use. The PS400 welds and seals paper with pre-applied adhesive and polywoven, thermoplastic bags without any glue, phasing out the need for consumables.
The system has a controlled line speed matching system, enabling synchronized operation with the system's converting line. A precision folding system allow the PS400 to perform clean-straight folds while a quick change folding system accommodates any fold size and type. A digital control set and recipe management system enable easy production start-up and recall of multiple batch options. The PS400 can be modified to fit a manufacturer's unique production needs. For the best production outcomes possible, Miller Weldmaster combines all of its top-grade machines with comprehensive, world-class customer service for all inquiries and concerns, ensuring that all of a manufacturer's production demands are met.
About Miller Weldmaster
Miller Weldmaster, the first choice globally of all industrial fabric welding solutions, has offered rotary hot air, hot wedge and impulse welding equipment to the industrial fabric and thermoplastics industries for forty years. For the fabrication and automation of various products from awnings to truck tarpaulins, to inflatable boats, Miller Weldmaster has developed many of the first advancements in heat sealing technology. The company's historical record of industrial "firsts" demonstrates its ability to research, design, and build solutions using the most current and innovative features of the industry. Having sold machines in over 100 nations around the world, and with distributors in 20 countries, Miller Weldmaster Corporation is a leading international manufacturer and provider of solutions for plastic welding machines, with a commitment to customer satisfaction. The company is headquartered in Navarre, Ohio, USA.
###