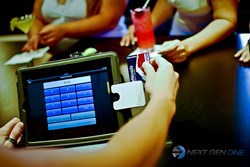 Next Gen Dine is fabricated to cater to a restaurant's every need
Las Vegas, Nevada (PRWEB) September 03, 2013
Prelag Partners LLC is proud to announce a new cloud mobile point of sale designed exclusively for restaurants, Next Gen Dine.
Next Gen Dine is fabricated to cater to a restaurant's every need. What makes Next Gen Dine unique is the mobility and features that are offered. There is no other point of sale like Next Gen Dine on the market. Maximizing efficiency and improving customer service all while helping increase profits are the main focus of Next Gen Dine.
Next Gen Dine features a hostess module that allows hostesses to take reservations directly on the point of sale. A confirmation text is sent immediately upon finalizing a reservation. Hostesses can also keep of the reservations in order by time. When a reservation is ready, a text alerting the customer is promptly sent out.
With the server module, orders can be placed directly at the customer's table. When an order is completed, it immediately appears in the NGD Kitchen Display Unit, where it remains until finished preparing. This process helps reduce the order turnaround time and keeps customers happy.
Payments can also be taken at the customer's tableside giving customers' peace of mind knowing that their credit card never left the table.
Aside from the normal point of sale features, Next Gen Dine offers many useful features to restaurants. Some of these features include payroll, employee schedules, sales reports, e-mail marketing, social media integration, loyalty programs, gift cards, coupons and so much more.
To learn more about Next Gen Dine and services offered, please visit the company's website at http://www.nextgendine.com.
Next Gen Dine is the future of restaurant dining. For more information about the product or to find out how your restaurant can start using Next Gen Dine, contact Paul Roberts, Managing Partner, at 1-877-342-2218 or paul(at)nextgendine(dot)com. Follow us on Twitter, Facebook and LinkedIn.
About Next Gen Dine
Next Gen Dine is a product of Prelag Partners LLC.
Next Gen Dine is a cloud-based, mobile restaurant point of sale software designed for the iPad. Restaurant owners can now capitalize on the benefits of a full-featured POS system for a fraction of the cost of a traditional POS. Due to the mobility offered by the software, employees can take orders directly at the table, take credit card payments at the customer's side, and drastically improve restaurant operating efficiency. Orders placed are sent directly to the appropriate prep station, therefore decreasing order turnaround time. Next Gen Dine also offers restaurant owners customer loyalty, gift card, social media, and fine-grained marketing tools.