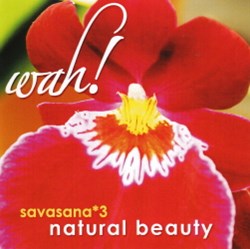 Los Angeles, CA (PRWEB) September 03, 2013
Yoga music legend and "Queen of Savasana" Wah! is back with the release of her new album, "Savasana 3: Natural Beauty," out Sept. 3, 2013 (Wah! Music).
Savasana 3 is the third in the Savasana CD series, and uses rich orchestral instrumentation and themes from nature to transmit its message of relaxation. The first Savasana sold more than 50,000 copies worldwide. "Savasana 2" was used by Oprah Winfrey's Soul Series expert Eckhart Tolle in his teachings on "The Power of Now."
Critics have said that Wah! is "one of the most versatile artists in the (yoga) music genre" (Yoga Journal), "the voice of a goddess" Australian Yoga Magazine). "Imagine yourself being in a swing hung in the sky and swinging as wide as the universe – this is the expansiveness conveyed in Wah!'s voice" (Light of Consciousness Magazine).
Before yoga was a household word, Wah! was creating hip, gritty and trendy music that set the scene for what was to become a new genre for music. Soon after, Wah! became a sensation in the yoga world with her spiritual, Eastern-tinged sound. She has since developed a large and dedicated following both in and outside the yoga community after more than ten years of touring, recording, and releasing records.
The Savasana releases have proved a popular yoga soundtrack worldwide. But her latest release came after three years of extensive study to find the best routes to expand listeners' consciousness. "I wanted to introduce to people that doing 'nothing' was actually a viable activity," says Wah!, "Maybe even a necessary prerequisite for healing and reintegration."
For more information, visit http://wahmusic.com.
BFM Digital, Inc.
BFM Digital is a global digital music company committed to serving the independent music community and delivering quality music, spoken word and video content to leading online retailers worldwide. Representing a diverse catalog of indie labels, artists and publishers, BFM distributes to all of the major music services including iTunes, Amazon, Rhapsody, eMusic, Napster, Walmart, Nokia and many more. With an unparalleled commitment to personalized service, BFM works closely with their content providers from around the world to ensure maximum exposure of their catalog by customizing marketing efforts and building strong relationships with BFM's digital store partners.