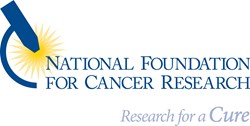 Bethesda, MD (PRWEB) September 01, 2013
The National Foundation for Cancer Research (NFCR) announced their partnership with yoga and Pilates studios across the country for a nationwide cancer prevention and education campaign, entitled "Stretch to the Cure."
Participating studios will join with NFCR to promote the health benefits of an active lifestyle of practicing yoga and Pilates. Studios will be donating part of the proceeds from classes or offering free classes to inspire renewed cancer awareness around exercise, diet and stress reduction.
Yoga has been shown to lower blood pressure and stress levels, as well as regulate metabolism, body temperature and heart rate. Stress reduction is a proven cancer prevention technique, as well as a leading rehabilitation tool for cancer survivors. These attributes help maintain a healthy lifestyle, which may lower the risk of getting cancer.
It is also known that exercises can help people sleep better, as well as reduce anxiety, nausea, pain and swelling, which is beneficial to cancer survivors.
"We are looking forward to joining hands with yoga and Pilates studios again this year and working with those individuals willing to utilize their talents and passions to benefit cancer research," said Franklin Salisbury, Jr., President of NFCR. "Together with all of the registered studios, we hope to increase funding for cancer research while sharing the benefits of maintaining a healthy lifestyle with the public."
Many of the participating studios have students who are cancer survivors and have pledged to emphasize certain yoga techniques to focus the body and mind.
"Our studio is a community, and as such, we have a number of practitioners. Some of these have had to deal with their own diagnosis of cancer, have friends or family who are battling cancer or even have lost a loved one as a result of cancer. We think it's important to show that we care on many levels. We try to reach out beyond the doors of our studio in order to create changes," said yoga instructor for Lake Tahoe Yoga, Jenay Aiksnoras.
For more information on how to participate in Stretch to the Cure, visit http://www.nfcr.org/stretch.
About the National Foundation for Cancer Research
The National Foundation for Cancer Research (NFCR) is a leading cancer research charity dedicated to funding cancer research and public education relating to cancer prevention, earlier diagnosis, better treatments and, ultimately, a cure for cancer. NFCR promotes and facilitates collaboration among scientists to accelerate the pace of discovery from bench to bedside.
Since 1973, NFCR has provided nearly $309 million in support of discovery-oriented cancer research focused on understanding how and why cells become cancerous, and on public education relating to cancer prevention, detection, and treatment. NFCR's scientists are discovering cancer's molecular mysteries and translating these discoveries into therapies that hold the hope for curing cancer. NFCR is about Research for a Cure—cures for all types of cancer. For more information, please visit http://www.NFCR.org.
###