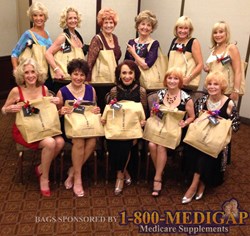 The Ms. Senior America Pageant is the world's emphasizes and gives honor to women who have reached the 'Age of Elegance'. 1800MEDIGAP is proud to be able to support this initiative.
Westminster, CA (PRWEB) September 04, 2013
The California Senior America Pageant was held on Saturday, August 31, 2013 at the Rose Center Theater in Westminster, CA. 1-800-MEDIGAP is proud to support the contestants and their efforts in building a better society and appreciating esteemed women of age. Visit http://1-800-medigap.com/.
The theme this year was "The Best is Yet To Come"; the women who competed were Mary Nelson from Apple Valley, Barbara Sheahan from Banning, Marcia Zadian from Buena Park, Wendy Hill from Encinitas, Sandra Erkus from Granada Hills, Esther Kenyon from Hawaiian Gardens, Alise Richel-Adler from Los Angeles; Gayla Jackson from Moorpark, Suzanne Millhollen-Goodrich from Rancho Santa Margarita, Sharon Curtis from Riverside; Fabie Combs from Yorba Linda, and from San Diego:  Jenne Lenhart, Michele McDougal and Vernetta.
Each contestant that competed in this year's pageant either won a regional title or was first runner up in one of the seven preliminary pageants that were held around the State of California. The Pageant is open to women who have reached the "age of elegance" – 60 years of age and up. The Pageant seeks to elevate Baby Boomer women as well as senior women, encouraging them to "stay vital and connected with life" and to be role models for their peers and younger generations. Pageant competition is based on an interview, modeling an evening gown, sharing of a philosophy of life statement, and talent.
The winner of Ms. Senior California, Alise Richel will go, all expenses paid, to compete in the 2013 Ms. Senior America Pageant held October 20-25, 2013 in Atlanta City at Resorts International.
The former Ms. Senior California , Elisabeth Howard from Topanga Canyon, went on to win Ms. Senior America at the 2012 Ms. Senior America Pageant. Ms. Howard is a graduate of the Juilliard School with a B.S. and M.S. in voice. She is on the vocal faculty of Pepperdine University and is the founder and director of the highly respected Vocal Power Academy in Los Angeles, established in 1980, with a network of teachers teaching the Elisabeth Howard Vocal Power Singing Method, domestically and internationally. Her clients have appeared on American Idol, Star Search, TV series, film and recording, Broadway, Off-Broadway and National Tours.
Since 1972, the Ms. Senior America – as well as all state chapters – has held to the philosophy that seniors are the foundation of America and should be considered its one of its most valuable treasures. They believe that through their knowledge, experience, and resources, the younger generations of America have the opportunity to build a better society.
Ms. Senior California of America, Inc. was established as a non-profit corporation in 2010 and is affiliated with Ms. Senior America, Inc., founded in 1971. The Ms. Senior California Pageant is celebrating its 26th anniversary, and is now the largest senior pageant program in the nation. For more information please visit http://www.MsSrCalifornia.com.